Which of these is advisable – investment in a land or an apartment? The question is certainly worth contemplating. And if Bangalore is the city under consideration, then mulling over it is certainly required. With the emergence of this city as an IT hub, it has attracted large number of people who earn well, who see real estate as a good investment avenue and also find this avenue of great help when it comes to savings on income tax. But, where exactly in real estate should one invest?
So, here is an overview of advantages and disadvantages of investing in Land and in an apartment.
Advantages and disadvantages of investing in Land or a plot.
Bangalore is shrinking in size, if correctly put, due to growing scarcity of open lands. It also, no doubt is expanding towards the exteriors, mainly due to influx of large population of job seekers who come in seek of millions of jobs provide by MNC's and IT companies. Builders are finding the construction of flats to be a profit-making proposition. But on the other hand, there are those who are connoisseurs of a 'quality living' who prefer investing in a plot and making an independent villa or their own dream house on it, exactly the way they dream it to be. They are those who believe in living a no-restrictions lifestyle when it comes to owning a home.
Thus, here are some advantages of investing in a Land:
You can get the house built exactly according to your preference. Thus, you enjoy better flexibility in construction style. Moreover, you can choose your own style of construction with no rigidity when it comes to structure or interiors.
Land prices soar higher as compared to the prices of apartments within the same time period and thus, they also offer better return on investment.
Since most of the open lands or plots in Bangalore are quite likely to be available in far off places, which are also closer to nature and less vibrant then the normally buzzing city life, one can dream of having a peaceful life once you get back home from work or during the later years of life stage, after retirement. Moreover, the size and remote location of the plot may fetch you a more affordable deal as compared to what you get for an apartment located in a hot spot of the city. No doubt plots or open lands may be available within the main city areas as well, but the price per square feet and construction costs will definitely turn out to be on the higher side.
Bangalore is a city which is full of colleges, malls, and all other amenities required for a peaceful and a comfortable way of life. Buying a land in such city can ensure better quality of life on retirement and also secures the future of the children too.
But, there has to be a reason as to why there is a sudden upsurge in construction of apartments in various hotspots of Bangalore and its exterior areas.
This rise in the number of flats is closely related to the disadvantages associated with investing in a plot.
The disadvantages of owning an own house/plot/land are:
Poor security
You will find most empty plots or lands available for sale in the outskirts of the city. Do you really think it would be easy for you to visit the plot on weekends or to keep a tab to ensure the construction is happening efficiently or just ensure the safety of the plot?
Vandalism and thefts are some of the scary pointers which may make your decision confusing and which may keep you from buying a land. Unless you are determined and take all the safety precautions you may need.
Uncertainty about neighbourhood
You can have a land at the location of your choice, but you can certainly not choose your neighbours. So, if you are stickler to the quality of company your children deserve, buying a land can be a bit disadvantageous as well as tricky. You may have certain reservations on the future of your children or probably the surroundings or facilities available near-by.
Expenses at two fronts
Whether you are a salaried person or a self-employed person, buying a land comes with lots of expenses. It is best to be prepared with all of these before-hand. On one side, you pay for the land/plot and at other you also need to require sufficient funds in managing house rent or your present residence where you are put up. Such equation is not so easy to achieve for everyone and needs a good amount of planning to balance it effectively.
No clue of how the area would develop
Not all areas of Bangalore promise good returns. Especially, the areas near the airport have lost the charm recently. According to real estate experts, these areas have not witnessed any major rise or fall in price. Moreover, growing congestion in this part of the city is making this area unsuitable for buying. With the changing policies and land rules the government makes, it's best to invest after sufficient research and knowledge about the future growth potential of the area.
Now, let's talk about the apartments. Which have sprung up in every nook and corner of the city. Bangalore which was originally known for big lavish independent houses has seen a huge change over the years. What with people who are originally from here also interested to shift to apartment style of living and want to step away from managing the hassles that come with the independent houses they once owned.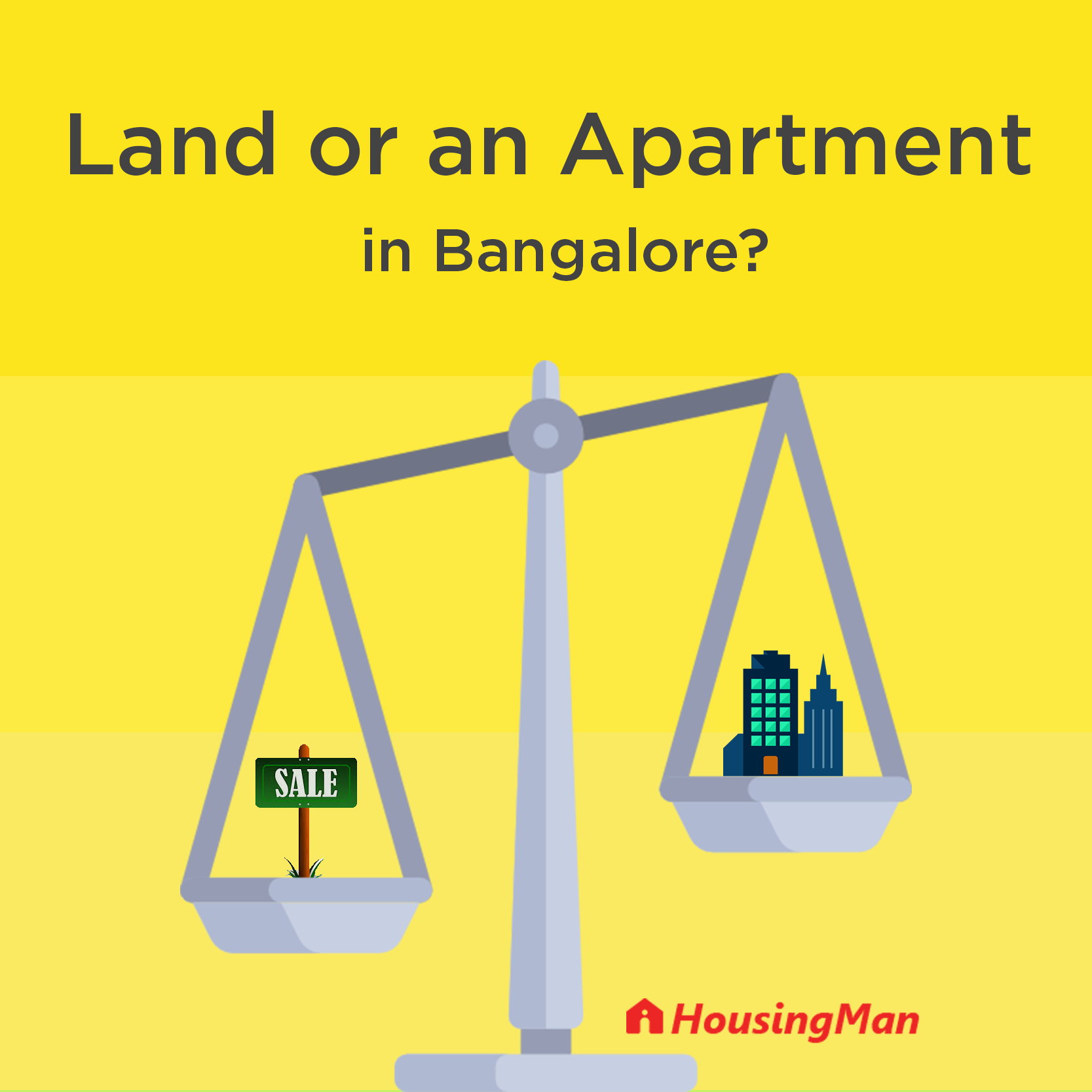 Advantages and disadvantages of investing in an apartment
Let's talk about the maddening rage that has gripped the real estate sector, i.e. the growing interest towards buying an apartment amongst the working population.
Here are the advantages of owning a flat in an apartment or a society or even a gated community.
Buying a flat is a good investment for those people who wish to settle down in this city and have plans to go back to their home towns on retirement. People working in IT companies, during their bachelorhood, prefer to share the accommodation and save money on rent. But, most of the times during marriage and when they think of moving to a better neighbourhood they need a house exclusive to themselves. A flat offers safety, good living environment and lots of amenities.
The idea of investing in an apartment is showing phenomenal increase in the number of its takers as a number of reputed builders are into this game coming up with various strategies and offerings to attract the customers. They develop the residential townships studded with all essential features such as shopping complex, school, healthcare centre, playing area for kids, 24-hr water supply etc. – all these amenities offer comfortable lifestyle and makes balancing family and work easier.
While a piece of land or plot is exposed to an umpteen number of complications such as clear title and other legal litigations, the flat is free of all these headaches, this clarity and ease of purchase is what a person fully engrossed at work needs. Therefore, ready-to-move-in flats are selling like hot cakes in Bangalore.
Security is one of the most important aspects that give upper hand to the apartments. The flats from reputed builders are under tight security supervision and are studded with all security features essential for a peaceful living.
So, where is the catch?
Well, you certainly cannot sign on the dotted lines blindly even after having weighed the advantages and disadvantages of investing in Apartment. It is necessary to make certain checks such as the track record of the builders, neighbourhood, the legalities, approvals and other certificates issued to the builder etc. If they have poor reputation in the market, it is likely to put you in soup as the money will be locked and you won't have any house, per se, under your title too.
Check for the maintenance and corporate fees, if any. Else, you may be shelling out huge money even for a small flat. Troublesome neighbours, parking fees, bad location of the building and insane management policies of the residential society are some of the disheartening points that you need to keep in mind while assessing the advantages and disadvantages of investing in apartment.
Conclusion
Buying or investment in a land or an apartment  – both have their pros and cons. It is up to the investor to ascertain which real estate avenue would deliver the best of the returns to him. Going for an apartment or a land also depends upon the risk appetite, availability of surplus money and time with the buyer.  One must be very clear on what one needs as per their family requirements.
On HousingMan – www.housingman.com you will find a host of property options to choose from. Be it Plots, ready villas, flats, Villaments or a gated community project. All these with exclusive deals and offers which are not available anywhere else. Buy your dream home only on HousingMan.