Hiring an architect is one of the various preparatory activities you need to do, when you are all set to get your dream home built. This activity has to be done with exceptional awareness and in-depth research as the success of your home building project depends entirely on who you trust your home designing to. Choosing an architect who can align with your budget, home goals and legal and administrative housing policies is important and first important step.
Need of hiring an architect
Building a house is certainly not a DIY activity. You need an expert who can visualize the best use of the space that you have in your plot. You may also need a support to understand how you can mingle your vaastu priorities with the building plan. Additionally, you need someone who is well-versed with the building plan regulations and can carve an abode keeping all laws and regulations in mind. So, you need to hire an architect to whom you can dictate your requirements and preferences, and he would incorporate all those in the building plan. Sometimes, you are not available fully to attend to the building intricacies, and just need someone to come up with 'looks' and you pick the one that you like the most. So, making the process of getting home built hassle-free demands appointment of a dedicated architect.
Some important tips for choosing an architect
 The best source of a suitable architect for your home is that house you liked the most in your locality. If you can approach the owner of that house humbly and ask for his architect, you can get the best help in choosing an architect (provided your budget matches with that owner's). Other important tips for choosing an architect are:
Enquire and be comfortable with the style of the architect: All architects have a specific style of their own. While hiring an architect, it is important to have clear understanding of their style and to ensure that their style matches to your liking. This definitely forms a firm ground for a seamless relationship likely to follow after a formal agreement.
Confirming the full availability of the architect: You surely would want your house to be built the fastest and also in the most cost-effective manner. Both these things are possible only when the architect chooses to work dedicatedly on your home and is available for time-to-time inspection. An architect jumping from one project to another can become messy and accordingly deliver an incompetent abode.
Get timelines agreed upon at the onset: Building a house is time-consuming as well as costly affair. So, it is essential to ensure that the house is completed as fast as possible. It is, therefore, better to set the timelines at the onset and set the payment terms according to the portions of the house completed. This helps two ways. Firstly, the architect would not delay the process unnecessarily. Secondly, you will have ample time to accumulate the amount to be paid by the time the stage of payment arrives.
Set a rapport: It is your house, but totally at the mercy of the architect until it is completed. So, the focus should be on choosing an architect who you are able to understand well and find it easy to maintain a good personal relationship with. Sometimes, looking for architect amongst people you already know pays really well and is surely a safer bet than trying someone totally unknown to you.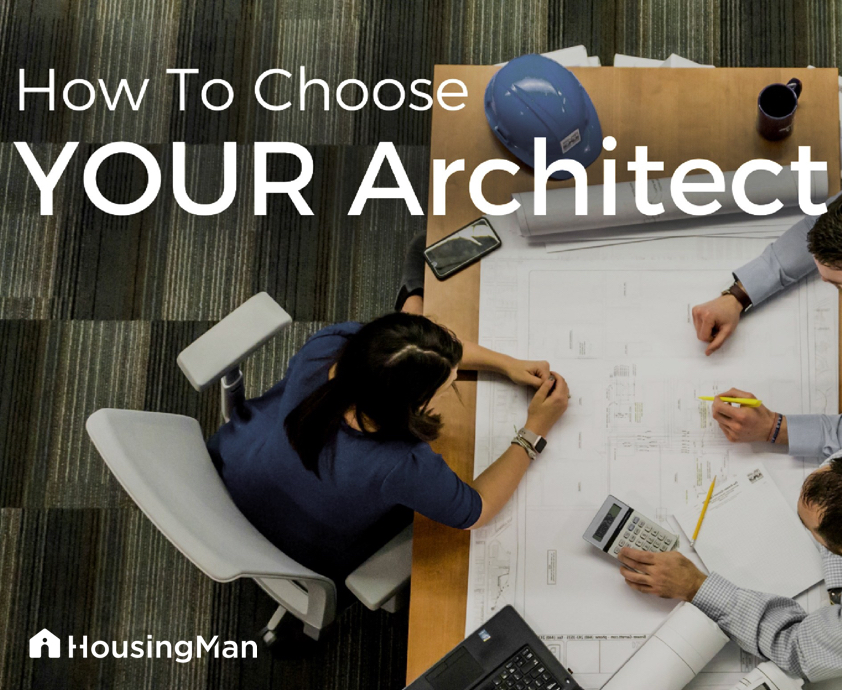 How to Find an Architect correct for your project and budget
An architect may be a proven expert in the field, but it is not necessary that you would be able to afford the same. Similarly, saving money on hiring an architect in spite of being able to hire the best can also result in repentance later. So, the correct architect is the one that knows how to build your house, according to your preference and definitely according to the city's housing regulations. This is possible to achieve if you talk to the builders and other components of construction industry, such as, paint suppliers, furniture makers, interior decorators etc who have worked with some architects in the past. Picking the architect of the builder's choice is also a good option to ensure that the building process is carried out with good co-operation.
Another easy way of choosing an architect is approaching the city's architecture's guild or association. Almost all architecture professionals working in the city prefer to get registered with the association so that they are recognized and have easy access to the projects. Some associations grant membership on the basis of the experience, certifications earned, college attended and etc. Thus, these points add to the credibility of the architect offering you ease of mind while hiring the one.
How to ensure hiring an architect within the budget
How to find a cheap architect is a question that definitely does not have a crystal clear answer. An affordable architect, in actual sense, is the one who can finish the construction within your financial limits. Have a look at the track record of the architect for reference. If there are 'red flags' such as unexplained delays in project's delivery, then this particular architect scenario may shoot up your budget.
Additionally, you can consider hiring freelance architects. These architects have decent portfolio, but do not have high operational costs to manage. They may not advertise their services heavily; may not have plush offices, have no undue overheads to inflate the construction cost. Also, they use the local building experts who work on low margin. Thus, you can expect to find better rates from such freelance architects.
To conclude, choosing an architect, thus, requires researching on various aspects. Suitability to your decided budget, mutual understanding between both the parties, dedication, total interest and commitment towards your housing project, etc are some of the crucial points you need to ponder over while searching the right architect for your construction work. Thus, it is better to do the homework thoroughly so that the architect who is the best for your needs as well as most suitable to your budget can be picked.
Thus, the best way of choosing an architect is to prepare well in advance, do your homework, build a rapport and then sign an agreement with easy terms so that none of the parties end up on a losing end while working on the home building or renovating project.