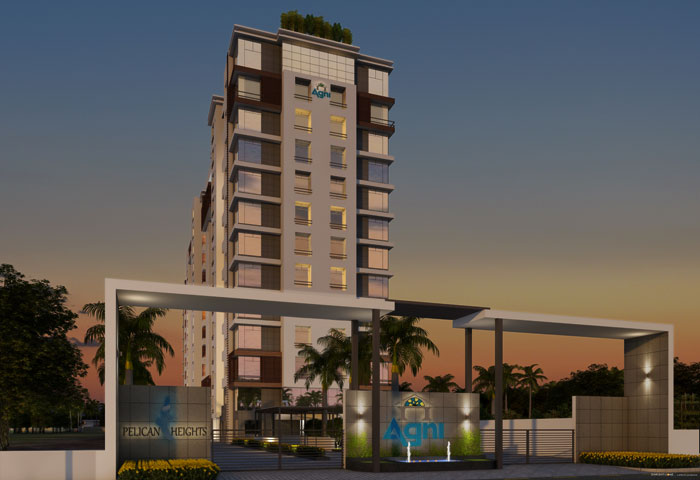 Welcome to an impressive lifestyle at Agni Pelican Heights. Find your way to a happy living in one among the best residential locations.The project has 2 and 3 BHK affordable homes in the most convenient location in the Pallavaram region of Chennai. In other words, the project is just 17 km away from Chennai and enjoys easy connectivity to the city.
Along with this connectivity factor, it has a great architecture and well-ventilated rooms. You can see that the apartments are built in quite an attractive fashion and offer a peaceful living. As a whole, Agni Pelican Heights has 138 magnificent apartments which are spaciously built around 1.31 acres. The size of the apartment ranges from  980-1460 sqft.
In effect, Agni Pelican Heights has ample amenities with exclusive spaces for fitness, arts and sports. The modern gymnasium, swimming pool, the spacious lobbies are a blend of style and comfort.
In addition to all this, the highlight of Agni Pelican Heights is the infinity pool which is built on the rooftop. The magnificent pool lets you have some refreshing moments at your own space. Along with this, the unique design along with the closeness to all basic amenities, make it an investment worth it.
Agni Pelican Heights also offers a high level of privacy and that suits the need of mostly all families. You can see that the project is a big buy for all homebuyers as it offers a mix of leisure activities within the home.
Pallavaram is home to many famous IT companies in Chennai. Many major companies like TCS, Wipro, Hubino have already found its way to the place. In other words, this place is undoubtedly a secure place for working class people. This increases the resale value as well.
Moreover the easy connectivity to all the major places makes it an easy place to live. In addition to all this, there are numerous educational institutions and hospitals close by the project. The busy residential haven also enjoys metro rail transport facilities and convenient public transport facilities. No doubt, Agni Pelican Heights is located in the right location and is an ideal home for all.
For more details about the project – Agni Pelican Heights
Check similar apartments – Alliance Galleria Residences and Krishna Mithila
Also you can visit – Flats for Sale in Chennai