Buying a home, needs checking the decision over and over again. The best way is to jot down the points worth considering and matching them with the resources available or conditions prevalent. Not all buyers are same; so their priorities and expectations pertaining to buying a house are ought to be different too. What type of property is worth investing in? if this question is looming over your mind, then you must be doubting over if it should be – a ready to move in property or under construction property. A property can actually be only either of two (barring plots, of course!) Either the construction is proposed or in full swing, or the construction is complete and the property is absolutely ready to move in.
So, let's find out which property type can be worth your time and money and can serve the purpose perfectly.
Pros of buying an under construction property
Affordable deal: Under construction property for sale is priced at comparatively cheaper rates. The level of furnishing aimed decides the price. So, a person is liable to pay only for the structure under construction. When pitched against ready-to-move-in property, an under construction property will cost lower when the other factors such as location, size, type of property, area and other factors are kept same in both the cases.
Higher return: There is considerable gap between the time the under construction property is booked/bought, and the time when it is possessed by the buyer. This gap allows the investment amount to grow as the property price appreciates with time. Thus, you will find under construction flats to fetch you better margin on investment than a ready to move in flat.
Fully safe and regulated property: In the present scenario when each and every project under construction has to be registered compulsorily under RERA, the buyer can expect the purchase to be covered from all kinds of risks. The buyers are less likely to face delays in delivery of under construction projects and there will be added peace of mind while striking the deal. The buyers of under construction flats or similar properties would have access to an appellate or tribunal where they would be able to register complaints if discrepancy of any kind is found in the final layout.
Disadvantages of investing in under construction property
 Investing in under construction property has its own set of disadvantages too. Some of the common disadvantages are:
Failure of builders to deliver: Projects like residential colonies, commercial buildings etc take years to complete. A lot many problems may surface during the construction phase, which may leave the project in lurch or the builder may abandon the project altogether. Such problems can be due to lack of funding, change in government policies, hike in rates of construction materials and so on. Thus, the investors may find it a dicey affair to go for under construction flats or offices.
No rebate in tax liability: The reduction in tax liability under sections 80EEE, 80C and 24 is extended only when the investor buys a ready to move in property. In case of investing in property under construction, the investor becomes eligible for the tax benefit of about 2.5 lacs of rupees only if the property's construction is completed within three years of availing the loan. Thus, this benefit is practically absent for the truth that the construction delays are cruel reality and there is no control as such on this situation as of now.
Subject to GST: Buying a property under construction attracts 12% GST on the total cost of the property. The other charges such as registration and stamp duty are additional.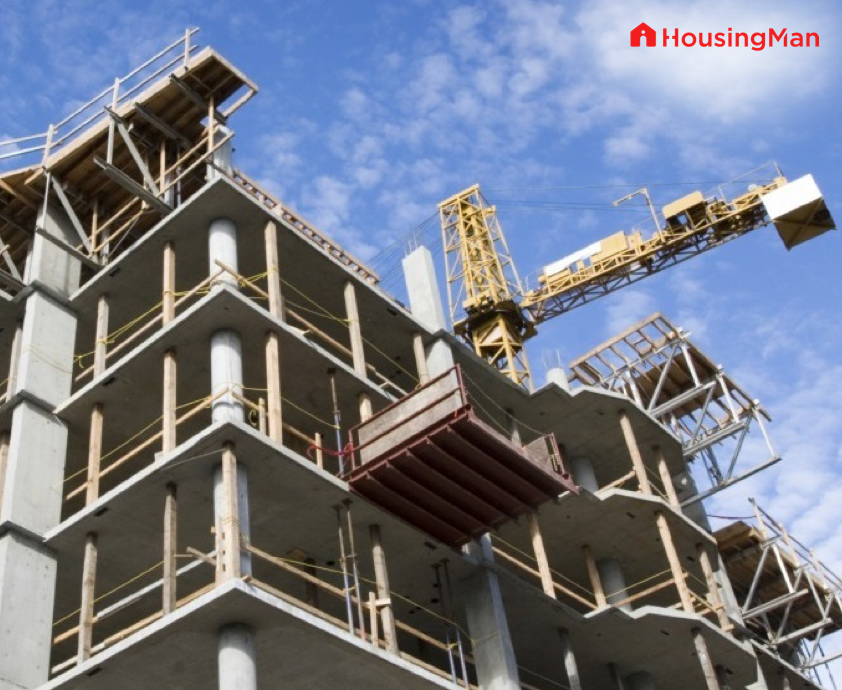 Advantages of buying a ready to move in property
When you choose to buy ready to move flats, it must be a planned decision and a well-thought one. Here are a few advantages that can help you feel happy about your decision:
No GST liability: Ready to move in property is GST-proof. Unlike the under construction property, this property type does not attract 12% GST on the total property price. These properties will be subjected to earlier taxation regime.
Ready for possession: The buyer has his investment, the ready to move in property, immediately available to enjoy. Thus, you are not hit by the dual expense of rent and EMI, something that is quite likely to happen when you need to stay in rented apartment while the property is being constructed for which you have availed loan too.
No discrepancies: Ready to move flats are presented as they are to the buyer. There is no such risk of finding layout completely different from what was shown at the time of sale. Thus, there is better peace of mind for the buyer.
 Main disadvantages of ready to move flats
 If you critically evaluate your decision to go for ready to move in property, you find certain shortcomings in the decision, such as:
No RERA protection: Only the projects under construction are to be registered with RERA compulsorily. Thus, the information about the property is not likely to get public and so, there can be incidences of false selling. All those properties that have been granted OC as on 1st May, 2016 are exempt from registration under RERA.
It can be an old, unsold property: If you are a fan of freshly built, untouched house, then ready to move in property may not be the perfect choice for you. Some of such properties are a part of unsold inventory built years back. Thus, you may require renovating it from the scratch to make it time-relevant and as per the prevailing trends.
Doubtable construction quality: Since it is ready to move in, there is no option left for the buyer except to rely on the marketing copy of the seller. Unlike property under construction where the buyer has full knowledge about the materials used and building method adopted, this type of property does not offer any view of what went behind the scene.
High price: Since this is ready to move in, the seller tries to earn margin on various aspects such as materials used, price of architectural advice sought and others. Thus, the price comes out to be higher than the under construction flats when all other aspects are kept the same.
So, before taking any decision, it is advisable to be sure about the purpose, the budget and the long term implications of buying a house. Keeping all these things in mind helps you go for the type that suits your needs to the perfection. With HousingMan you can choose from host of properties, as per your budget, investment goals, lifestyle and purpose.