A salaried person has a fixed source of income. Thus, the huge amount of capital required for buying a property is not easy to accumulate. Therefore, the struggle is harder to save and accumulate a huge sum to fulfill the dream of moving from a rented accommodation to an own house. Though the limited income may stop a salaried person from dreaming big, but the facility of a home loan makes them capable of turning their dreams into reality.The documents required for Home Loan are simple and can be processed quickly to make your dreams into a reality.
Home loan eligibility criteria for salaried person
To become eligible for any kind of loan, one needs to achieve four Cs of credit – character, capacity, capital and conditions. In the case of a salaried person, these Cs are easily available. However, one may get caught on capital as the salary amount may not be big enough to win the confidence of the loan providing company. Still, a salaried person earning in six figures can get all these eligibility criteria fulfilled as:
The character records are easy to identify as the companies hire their employees only after thorough reference check and certification of character.
A salaried person has a fixed source of income. With the course of time, one would have amply saved to be able to set some money aside for the EMI payments.
The savings and sometimes, the inherited asset in cash or kind provide ample cushion to take a big decision like buying a property.
Reputation of the company one is working in, sticking to one organization for ample time, and stability along with career growth provide suitable 'conditions' to make one eligible for the home loan.
How home loan companies assess the applicant for loan eligibility
The only way to ascertain the eligibility of a salaried person for home loan is by asking for some relevant documents and scrutinizing them for goodness. When a salaried person approaches the home loan company, one needs to sharing details like all sources of income, salary slips, location and type of property, requisite approvals from municipal bodies, etc. The borrower can also be assessed on the basis of current loans running and the credit report. If there are any credit cards possessed by the borrower, the payment pattern on those cards also reveal significant information about the credit report of the borrower.
Home loan companies prefer to give loans to salaried employees who:
Have been in the job for at least three years.
Have no record of defaulting on loan repayments.
Have chosen a property which has clear titles.
Have choosen the property that does not violate any city's regulations.
Have choosen the property that is deemed fit for residential use and has been granted necessary approvals (in case of agricultural lands)
So, if your profile features all these points, your feat to get the home financed becomes a bit easy.
Documents Required For Home Loan
It is advisable not to make any false declarations in an attempt to get home buying financed easily or faster. The home loan financing companies also take a lot of care in scrutinizing the authenticity of the documents submitted by the applicant. Here is a list of documents required for home loan:
Identity Proof: PAN Card/ Passport/Driving License/Voter ID/Aadhaar Card
Address Proof: 3 month old Electricity Bill/Driving License/ Registered Rent Agreement/ Passport/Aadhaar Card ( if it contains the same address where you are living currently)
Employment Appointment Letter: The employee appointment letter works when the person has not completed one year in the job.
Financial Documents:
Salary slip for the last three months
6 month's bank statement
Form 16 for the last 2 years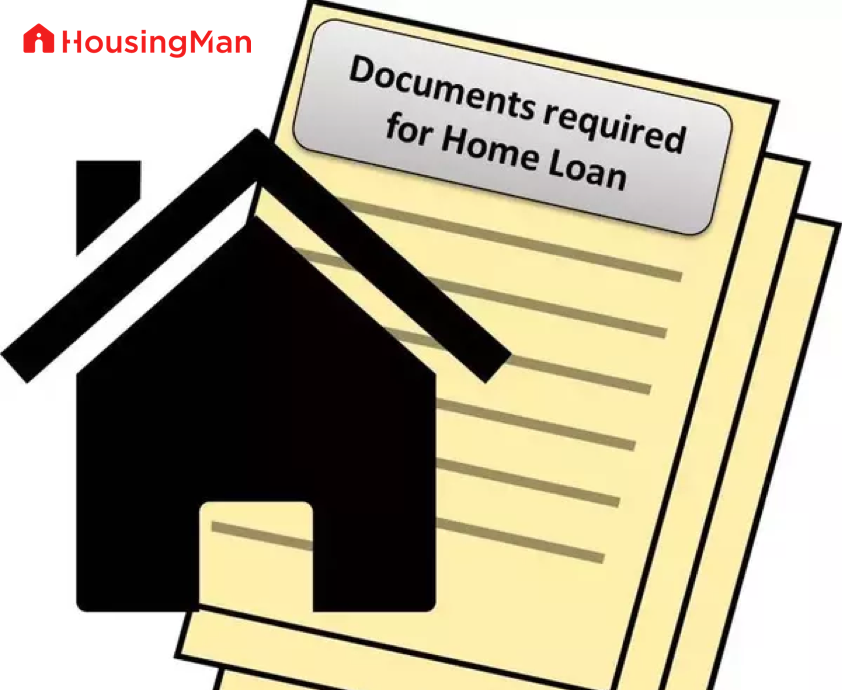 How documents required for home loan differ for people who are not salaried
If you are not a salaried class person, you still can apply for home loan. The list of documents will be a tad more elaborate.
Documents Required for Professionals who are self-employed
Identity Proof: Voter ID Card/ Passport/Aadhaar Card/PAN Card/Driving License
Address Proof: Driving License/ Utility Bill/Registered Rent Agreement
Address Proof Of Office from Where You Work: Documents of Property, Utility Bill
Ownership of Office Proof: Maintenance Bill, Property Documents, Utility Bill
Existence of Business Proof: Saral Copy for last three years, Company Registration license, Shop/Business Establishment Act
Proof of Income : Latest 3 years Income Tax Returns including Computation of Income, Profit & Loss Statement of Account, Balance Sheet, Audit Report, etc.,
Bank Statement: Bank statement of past one year
1 passport size color photograph
There are situations where a home loan borrower may choose moving to other banks offering more affordable rate of interest on home loans. In such cases, the documents applicable for balance transfer need to be submitted to the bank or financing company you are switching the home loan to. The documents are almost the same as required for applying for home loan for the first time.
Documents required for home loan balance transfer include:
Completely filled application form of new bank to which loan is being transferred
Passport-size photographs
Latest three months' Salary Slips mentioning details like gross salary, net salary after deductions, house rent, etc.
Six months' bank statement of the account in which salary is being credited, the latest credit should be not more than 15 days old.
Any one of identity proofs such as PAN card/ Driving License/Voter ID card/Passport
Address proofs such as Voter ID card/Aadhar card/Utility bills
Any one of 10th or 12th class mark sheet/PAN card/ Voter ID card/ Birth certificate as age of proof.
The non-salaried (self-employed) professional or businessman may submit business's existence proof and academic qualification proof (in case of professionals) along with the financial statements.
For home loan balance transfer, the last 12 months' statement of bank account from which EMIs are deducted  need to be submitted. New bank or NBFC chosen will also require the loan statement copy and the property documents submitted to the previous home loan financing bank or finance company.
Rationale behind collecting the documents for home loan and home loan balance transfer
Know Your Customer or KYC is the prime requirement for fulfilling any deal between the bank/loan company and borrower. The identity proof and address proof provide the details pertaining to customer's KYC check to the lending institution. Salary account details and financial documents (in case of self-employed professionals and business owners) tell the banks clearly about the loan repayment capacity of the borrower. In case of home loan balance transfer, the loan statement is sought by the new lending entity to check the track record of the borrower and to find if he were a defaulter in the past. The loan repayment schedule gives clear idea of the borrower's intention to repay loan and so, this has to be satisfactory. Property documents need to be submitted in order to fulfill the requirement of collateral against which the loan is taken.
So, if you are planning to apply for home loan, make sure that you have collected all the relevant documents and got them checked for goodness before submitting the application. The clearer the documents are, the brighter the chances of getting the home loan approved.