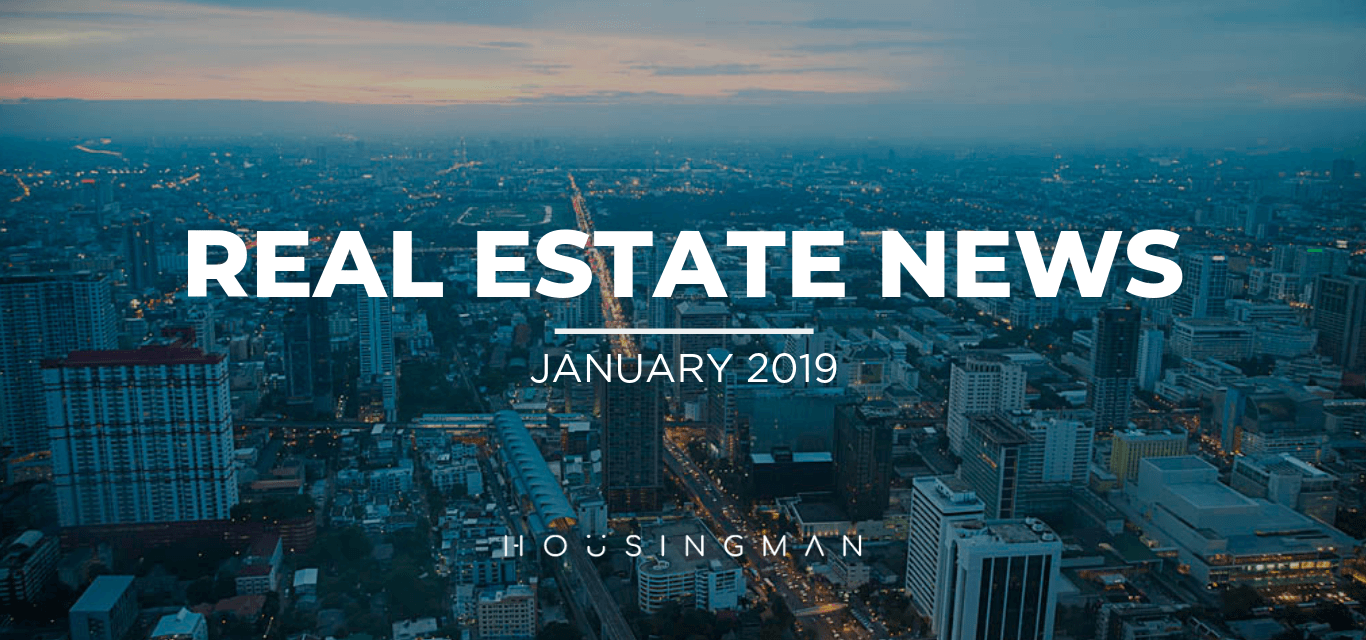 In this post: We look at the real estate news of January 2019 which made headlines in the first month of the new year. Thus, this post gives you a brief analysis of top news stories and real estate news of January 2019. For in-depth analysis, bookmark this blog section and follow us on social media. Our content analysis team constantly shares important news and perspectives about the housing market to deliver value to homebuyers and developers. So, let's get the ball rolling.
Government Delays its Decision on Urban Rental Policy
A senior government official is alleged to have said "The rental policy is unlikely to be formalized any time soon. The main reason is that it is very sensitive".
An informal Group of Ministers met up and have concluded that reforming the urban rental issue would not go well with the electorate in an election year. As a result, the government seems to have turned a blind eye to a major opportunity to truly deliver a life-changing, positive reform.
Housing Prices Rise by up to 22 percent in 33 Cities during April-June FY19
The main highlight of real estate news of January 2019 is about housing prices. According to the National Housing Bank data, housing prices have increased in 33 cities. However, it has surged up to 22 percent for the period of April-June quarter this fiscal. Whereas 14 cities saw rates go down (down by 13 percent) and 3 cities saw rates remain stable.
For under-construction properties, housing prices went up in 39 cities by up to 17 percent and declined in 8 cities by up to 8 percent and remained stable in 3 cities.
New Housing Project Launches See a Significant Jump
Property markets (residential) in top 3 cities (Bengaluru, Mumbai, Delhi-NCR) in India have shown signs of recovery from abject performances for 3 years running. The RERA and GST reforms have now started to show positive signs in these markets as they have boosted homebuyer confidence. According to a JLL India report.
The report also throws light on a 114 percent year-on-year supply growth witnessed in Delhi-NCR market with nearly 17,660 units (highest among the three cities). Bengaluru meanwhile recorded a healthy 81 percent growth with a supply of 37,286 units and Mumbai's housing market saw a 22 percent rise in launches.
Wrongly Assessed Guidance Value Spike in Bengaluru
Karnataka state government is said to have miscalculated the guidance value of properties and eventually jacking up market rates. But there was no valid data to support this. Some state officials say that this was done mainly to drive up stamp duty collections.
The department took a decision to revise the guidance value of properties facing roads upwards by 25%. And an additional 10% rise for properties facing parks.
Mumbai Rent Inflation Highest
Mumbai Metropolitan Region (MMR) has seen a massive 18 percent in 2018. This is highest among the top five cities which capture the majority of real estate transactions.
The average rent rose to Rs 21,168 from Rs 17,912 (2017) in Mumbai. Chennai and Bengaluru followed it with 15 percent and 14 percent increase, respectively. Gurugram saw an 11 percent rise, while Pune experienced the lowest rate of 7 percent.
RERA Registration to be Extended
The developers and promoters were finding it difficult to come aboard. The RERA panel has decided to eradicate this hurdles faced by them. As a result, the panel is planning a change in Section 6 that deals with the extension of registration of the project beyond a year from the scheduled date of completion.
The formation of RERA was to protect homebuyers at any cost. The amendment predicts dilution of the reform (RERA). Therefore, the pan-India homebuyers association (FPCE) straight away objected the proposed amendment.
Budget 2019: Gain for the Affordable Housing Market
The final thing in Real Estate News of January 2019 is about Budget. The Union Budget 2019 has addressed a few ongoing concerns in the real estate market. This has been driving the market into a downward slope for nearly three years. Real estate industry experts note that the budget is primarily aimed at the affordable housing sector. But it will definitely benefit both buyers and developers. Here's a quick snapshot on the budgetary points aimed towards the real estate market:
More money in the hands of buyers. In other words, income tax exemption will save over Rs 28,000 annually for a person with an income of Rs 6 lakh.
Benefits to affordable home buyers extended with income tax exemption bracket increased to INR 500,000 net income
Tax exemption of tax on Notional Rent (on a second home occupied by family)
Capital gain benefits on selling one property and buying two (extended from investing on only one property unit)