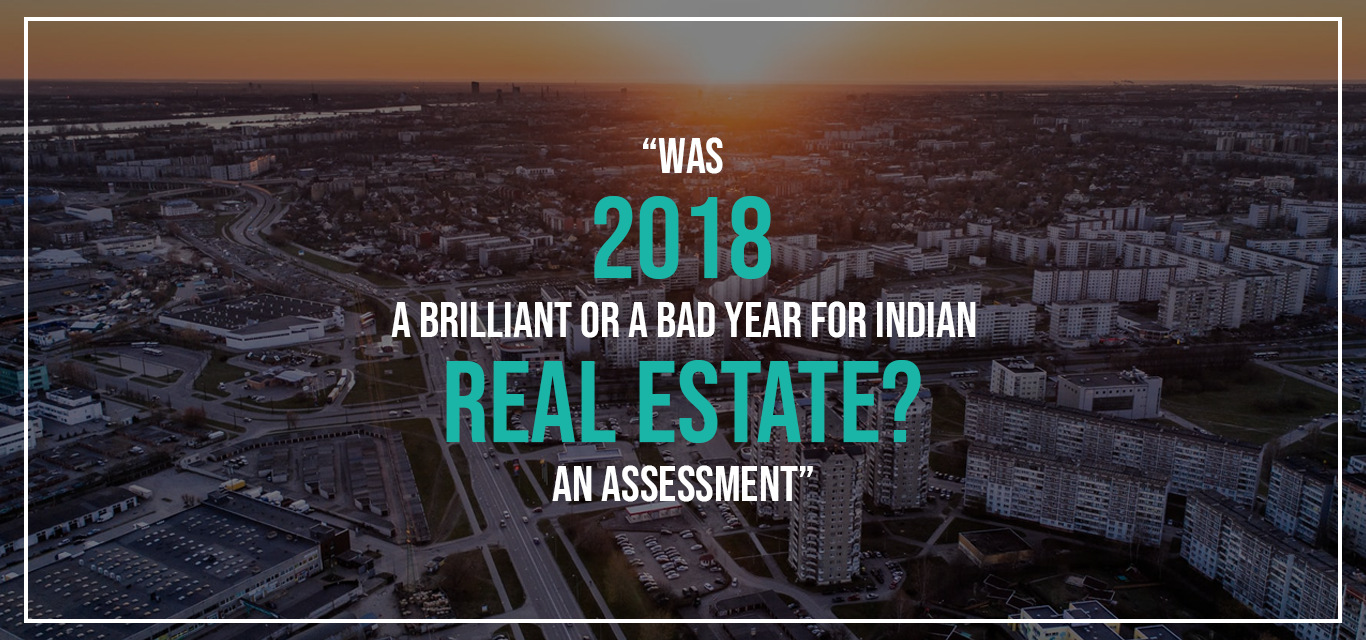 In this post: We look at how India has fared in 2018. We begin with two major impacts which influenced the sector in 2017. We highlight the pain points from real estate review of 2018 and briefly assess what it has in store for buyers and investors in 2019
Let's Start from Beginning: Impact of GST and RERA
The GST and RERA reforms of yesteryears had put 2017 in a relative slump, but 2018 began with hope for the housing market with gradual upturn in sales and new supply across 7 major cities – Bengaluru, National Capital Region (NCR), Mumbai Metropolitan Region (MMR), Chennai, Kolkata, Pune, and Hyderabad.
Residential Real Estate in 2018
Research conducted by ANAROCK showed ~18 per cent spike in supply of housing units in
the first three quarters of 2018 when compared to that of the same period in 2017. Housing sales also saw a healthy increase of 8 per cent during the same period when compared to 2017.
This is the first time that India saw a steady growth post reformatory changes. On the
intangible performance side, Indian real estate tried to acclimate with efficiency and transparency driven primarily by RERA. ANAROCK had conducted a consumer survey and
found that 81 per cent of respondents actually felt that the real estate sector in India has
started to become more efficient and transparent.
Commercial Real Estate in 2018
It seems that the commercial side of the real estate market remained unaffected in the real estate reviews of 2018 and 2017. Growing investments in the startup culture over the past two years has lead to increasing in demand for office spaces and warehouses. At the beginning of the year, the IMF had pegged India to achieve a very healthy economic growth at 7.3 per cent for 2018.
There has been a sharp spike in demand for commercial (retail, office spaces) in Tier 2 cities with low vacancy and high rentals in Tier 1 cities. Cities such as Lucknow, Coimbatore, Mangalore, Ahmedabad and Chandigarh have received a fair increment in commercial real estate projects since the turn of 2017.
Pain Points of 2018 in the Indian Real Estate Sector
Supply
Kickstarting incomplete or stalled projects has been a major challenge for the past few years. Though RERA will drive the much-needed discipline and help maintain efficiency,
The government of India is working on implementing reforms to tackle this issue. However, we are yet to see anything close to a concrete strategy or plan regarding the same.
Capital, or the Lack of
Developers have three main sources of funding, HFC (Housing Finance Companies), NBFC
(Non-Banking Finance Companies), and traditional banks. Traditional banks have put a hold
on real estate funding for quite a while now, leaving the HFCs and NBFCs as the only option
for capital infusion into stalled projects.
The ongoing crisis at a major NBFC IL&FS defaults has made it even more difficult for developers to seek liquidity. As the NBFCs themselves are struggling, their disbursals of
loans to developers have slowed down significantly.
About October 2018, the Reserve Bank of India had increased credit flow to NBFCs and HFCs. This decision has brought in a much-needed cheer to revive the real estate sector. Reduction in GST rates has also allowed developers to put more capital into land acquisition and thereby reducing the cost of purchase as a result.
Whatever happened to the Smart Cities Project?
A set of 100 cities were selected for the ambitious smart cities mission. This much needed
the project hasn't achieved the necessary results so far, with only 5 per cent of the proposed projects completed.
Tier 2 cities such as Vadodara, Ahmedabad, and Nagpur have seen progress under the
mission, leaving behind Tier 1 and metro cities such as Pune and Chennai respectively.
Tier 1 cities are where people want to invest and buy. Due to the underwhelming performance of the mission, there wasn't much on offer to home buyers in 2018. We may see this trend continue in 2019, unless the center and state governments make this mission a priority.
Lack of Credible Focus on Sustainable Real Estate
Sustainable construction practices, though not new to India, is in the nascent stages. As per the Indian Green Building Council (IGBC), about 5 billion square feet of green building
footprint has been achieved so far. And the council has set an ambitious and positive goal
of achieving 10 billion square feet by the year 2022.
What can Indian Real Estate Look Forward to in 2019
2018 hasn't been a bad year for the Indian real estate market, considering major regulatory reforms in construction (RERA) and finance (GST) affecting both lending and buying. This year, 2019, we will see more emphasis put on project completion and a healthy uptick in sales of ready-to-move-in homes. Lending institutions always want to invest in nearly-completed projects than on brand new projects.
From a buyers point of view, real estate review of 2018 has been decent, without a significant rise in property value nor any losses. This year, 2019 might bring in a healthy increment in ready-to-move-in properties. However, only when buyers make informed decisions will they be able to get the best value for their money. We at HousingMan.com work with top builders in India and have acquired extensive information about each project. So, effectively we can help buyers with guided property tours and discuss the pros and cons of each project.
Visit our homepage or talk to one of our consultants at +917026895895 now.