Dangers lurk at every nook and corner of the house. As parents, you always have an instinct to protect your baby from all kinds of dangers.Most often arrival of a new baby, brings along a lot of anxiety to parents. As kids, they are often prone to hurts and untoward incidents. You always want to ensure your child is safe and protected at all times. It is best to child proof your home, to ensure your kid, whether a baby/toddler/child is always protected.
A healthy and safe environment for your child would also keep you away from the stress and anxiety of keeping an eye on your child all the time. Child proofing home is one of the basics. Along with a host of baby proofing ideas and baby proofing products you can create an ideal baby proofing house checklist. But here are a few tips to child proof your home helping you get started and sorted.
1. Have A CCTV installed in key areas in and around the house, to have an eye on your baby from any area, within or outside the house through a smartphone device.
2. Make sure sharp and heavy objects are placed at a distance, these may come on the way when a baby crawls or moves. Also, make sure, your baby has sufficient support in the form of clear walls, to hold onto, in case he/she needs something to grab while taking the first few toddler steps.
3. Keep kitchen grocery and hot-cooked food away from the reach of children, so they don't create a mess or cause any hurt or damage to themselves.
4. One of the key ways to child proof your home is to install barriers at staircases and meshes across stair case railings. This will prevent any accidents.
5. Remove clutter from all places within and outside the house. This will not only help in creating an extra space for your child's needs but also help your child to move about freely.
6. Ensure there is adequate and right lighting at all places around the house. Hallways, staircases, rooms should in addition also have sufficient nightlights.
7. One of the effective ways to baby proof or child proof your home is to keep all cupboards and doors locked. Make sure when not in use, they are locked and out of reach from the kids.
8. Supervise baths to prevent drowning. For those who are little older, make sure the tub is filled with appropriate water level and they do not fall asleep while bathing.
9. Check the water temperatures. Make sure its set to right and appropriate temperature for your child bath.
10. Keep electrical appliances away, especially those with cords, such as irons, hair dryers etc. They are easy to reach and can also cause hurts and burns. Unplug and put away, when not in use.
11. Medications should be kept away from the reach of children. Keep them closed and stashed away in locked cabinets.
12. Toiletries and cosmetics such as mouthwash or hairspray should be kept away from the reach of children. Apart from children creating a mess, these can be hazardous, in case it is consumed by children or gets into the eye.
13. Sharp objects such as scissors, dental picks, nail-cutters, tweezers should be kept away.
14. Make sure dirt and germs are away by using safe, non-toxic cleansers. Also, make sure to keep all kinds of liquid or powder chemicals, detergents and bleaches away in an unreachable cabinet, so your child does not get its hands on them. These can be extremely corrosive and poisonous if inhaled or swallowed.
15. Re-arrange any furniture which could cause any kind of trouble to the child's movements. Especially rocking/reclining chairs, which can smash and even entrap legs and fingers.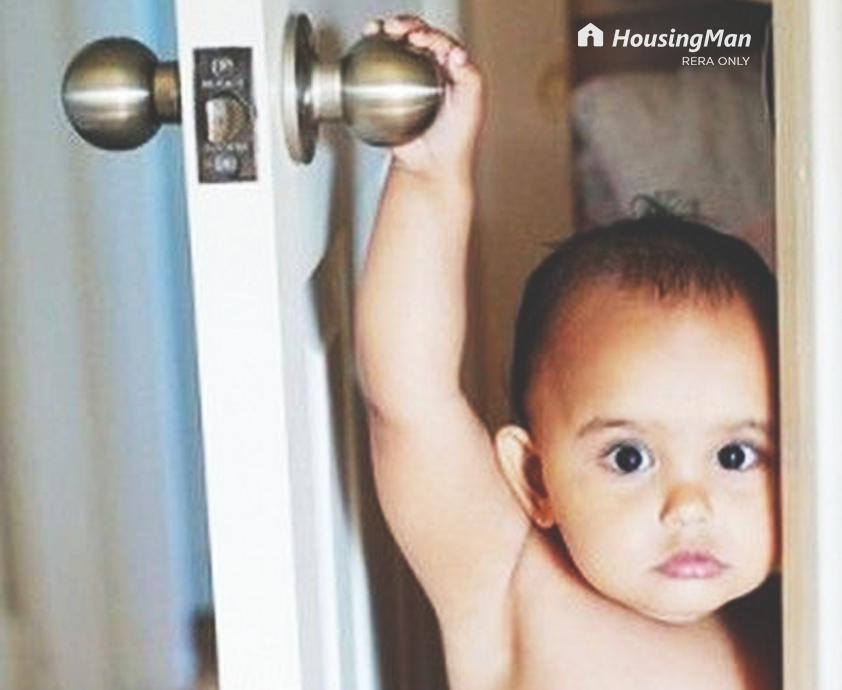 16. Use a baby-monitor, when you are at a different location in the house from where your baby is sleeping. This will help in showing you constant updates about your baby.
17. Supervise your kids playing methods and toys. Certain toys do more harm than good.
18. Have smoke and fire alarms installed, in all areas of the house. Keep a fire extinguisher handy.
19. Be careful with glass at all areas of the house – Be it in the living area, furniture, everyday crockery use or kitchen.
20. Don't let small children to wander about in the kitchen, while you are at the task of preparing food.
21. Keep windows and sliding doors locked to prevent finger hurts while closing or tripping if placed close to furniture.
22. Control access to unsafe areas with right locking and protective mechanism.
23. Use doorstoppers and door holders to protect babies' fingers and toes. Also make sure you have child proof door locks installed to avoid any kinds of mishaps.
24. Make sure the entries to terrace and balconies are secured. The railings should be high enough and properly meshed.
25. Manage the air quality. Dust and other allergens may cause harm to your child's health and breathing.
26. Mind your pets. Pets can carry potential bacteria and flea. Keep your child protected at all times. If your pet has undergone a flea treatment, wait for the medication to dry and then allow your children to play.
27. Reconsider plants – while a few can be a great décor and source of fresh air, also make sure to check the plant type. Some can be dangerous if eaten, and along with the marbles and gravel can cause mess and choking hazard for children.
28. Always have a first-aid kit handy. Keep it at a secured and easy to access place.
While growing up kids often need home safety and protection, make them self-reliable to stand-up and face difficulties in case of any misfortunate circumstances and events.
As appropriate and fitting for their age, teach them first-aid, how to handle appliances, how to talk and behave to unknown strangers etc.
Always, make sure you are attentive and keeping an eye on all your baby/toddler/child's movements when your child is out and about. Keep checking on them constantly. Different age-groups need different home-proofing and child-proofing solutions.
Kids are kids after all. They are bound to have a few falls and hurts within and outside the home, as much as you child proof your home and surroundings. While kids are everything in home, often their requisites are to be kept in mind when planning to buy a home.  As a parent all you can do is be prepared at all times and handle all situations in a calm and composed manner.