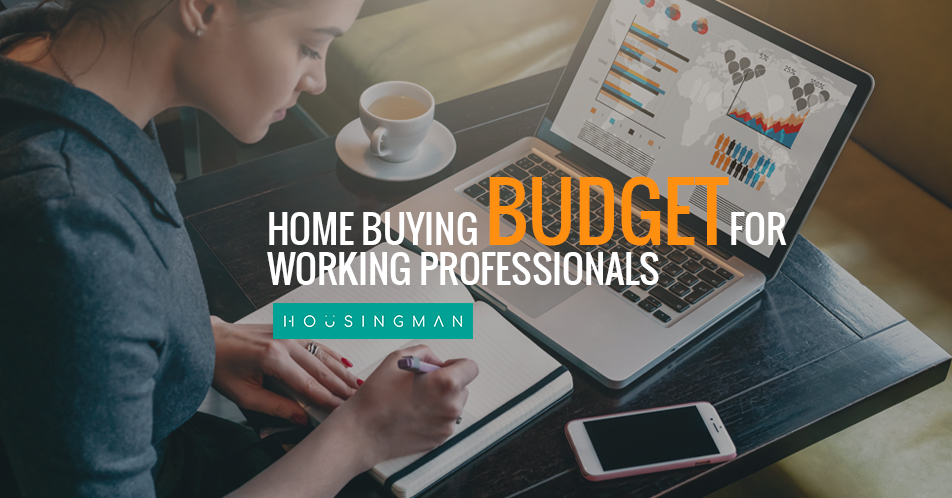 What's in this post: This post is mainly aimed at home buying budget for working professionals (single or married couples) who are planning to invest on a brand new home. The reasons for buying a new home can be many. But this reading will help you understand the process of planning, assessing, consulting, and budgeting to buy your desired home.
What is your Current Home Budget?
If you are a first time home buyer, you should begin with evaluating your current home budget. Start with charting your current expenses such as rent, car loans (if any), lifestyle expenses, savings and other regular expenses.
Factor in the EMIs you might pay and align it with your current budget. Assess if the budget is manageable. If it is comfortable, then it is likely that you are ready to start hunting for your new home.
There is another aspect to buying a new home. The hidden costs. Which we will cover later in this post.
What kind of House do you want?
Start with discussing this with family, friends, husband/wife (whoever seems ideal). Understand that you should factor future necessities while buying a new house. Ask yourself these questions:
● Will I be starting a new family in this house?
● Will you share the EMIs with your partner?
● Who all will live in this house?
● What needs do your parents have in terms of healthcare on a monthly basis? (if they stay with you in the new house)
These are just a few questions, you will always know better about priorities. Chart them down, even before you start looking for square feet prices and builders on Google.
What should define your Buying Decision?
There are quite a few factors which drive your home buying decision. Here are a few scenarios which determines the type of home people want to invest on:
● Low EMI: The lowest or the most affordable EMI
● Low down payment: Lowest down payment (less emphasis on EMIs)
● Type of property: Some people don't prefer flats/apartments, they want to buy a plot and construct a house from the ground up
● Type of locality: A house in a specific neighborhood or locality etc.
You should determine the reasons which dictate the kind of house you want. Once you are clear with what you want, it is easy to consult resources (such as Google) and experts (such as real estate consultants, or a family relative who has just gone through this process of evaluating and buying a new house).
Talk to a Real Estate Consultant
Now that you have a better understanding of your budget and type of property, consult a real estate expert to understand a few factors, such as:
● What is the current home market like
● Which localities offer better value
● Which builders have good reputation
● Request for guided property visits
● How to get the best home loans
● What papers you need to provide
Real estate consultants are full of valuable information, it is up to you to build a rapport and get the best out of them. We suggest you talk to a consultant over phone (initially) and in-person (next) to strike a good relationship. Our consultants at HousingMan are well equipped to give you in-depth pros and cons about each property of your choice, take you on guided site visits, and help with legal paperwork completely.
Needs vs Wants in Home Buying
A detailed chat with a real estate consultant will help you narrow down your needs and wants of buying a brand new home. Here are factors which you need to determine (with the help of a consultant):
Needs
● Number of bedrooms you need
● Should your home be close to work
● Should your home be close to schools
● Should your home be close to Metro stations or the airport
● Do Uber and Ola cabs ply in the area
● Can you directly book a cab or an auto easily
● Are there enough utility marts around etc.
Wants
● Do you want a home with pool access
● Do you want lifestyle amenities with marts, gyms, garden etc within the property
● How many car parking slots do you want etc.
Make a list of all these, absolutely necessary factors which will help you determine the kind of home/locality you should invest on.
Define your Price Range
Once you determine the builder, locality, type of house (with a consultant), then you will have a ball-point-figure (cost) to work with. Now, start with assessing the down payment cost. How much can you afford (ideally it should be between 30% to 50% of the property value).
Your down payment determines your EMIs. A consultant can help you with a whole host of EMI options from various banks. Factor the cost of EMIs in your current monthly budget and see if your budget doesn't bloat out of control.
You also need to understand the hidden costs of buying a new home.
Understand the Hidden Costs of Buying a New Home
There are costs affiliated with buying, moving, and setting up a brand new home. Here are some of the costs which you should consider in your home buying budget:
● Setting up: new furniture and maintenance costs in your brand new home
● Moving cost: movers and packers charge a big chunk of money
● Parking slot: not all houses come with free parking space. Or maybe you need an additional parking slot.
● Brokerage charges: you will end up paying 1% to 2% (sometimes more) to brokers. Work with professionals who would get you a better deal through years of relationships with builders and banks Etc.
Conclusion
We at HousingMan have built years of strong relationships with top builders all over India. We know in and out of each property. We have helped many individuals and families invest on new properties wisely and happily. Talk to your consultant today to get the best bang for your buck and get the right home buying budget for working professionals.