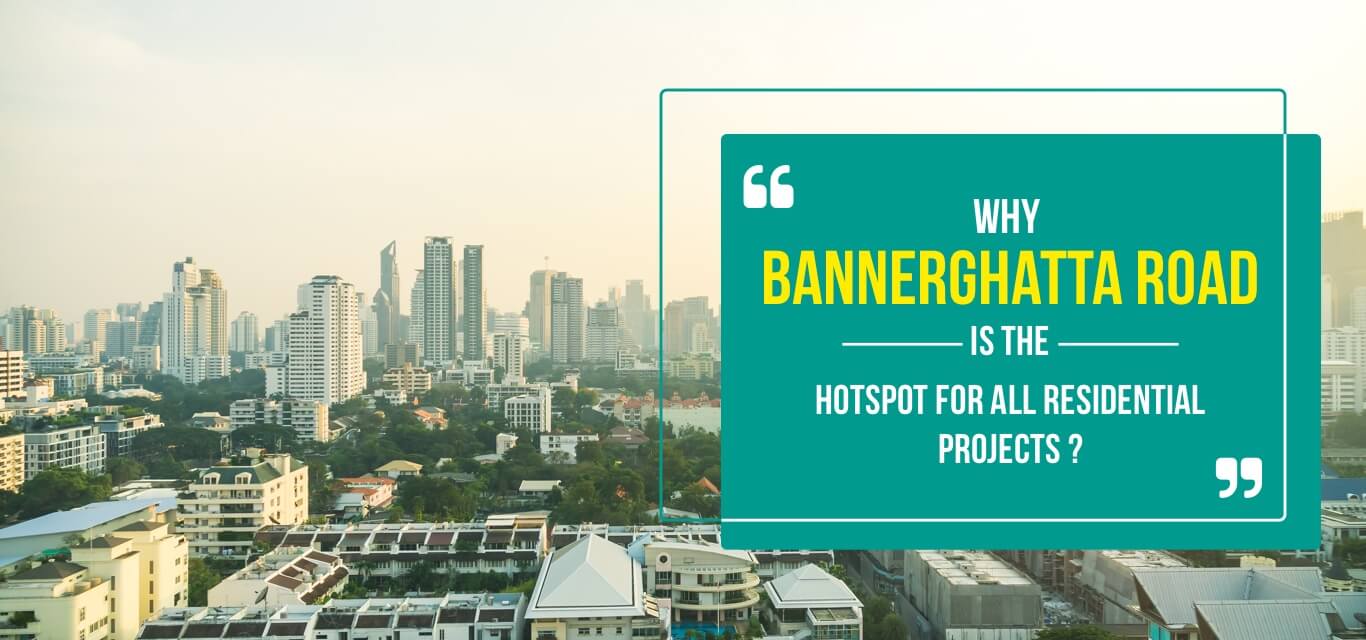 Highway 87 or Bannerghatta road, a heaven in the busy city of Bangalore is indeed turning out as the favorite spot for both builders and homebuyers. The place has got a charm that no other part of the city behold. With the arise of new places of interest like the Vega City mall, it is gaining a quick popularity among the homebuyers too. Buying residential projects in Bannerghatta road is considered as a big investment these days.
Let's have a look at the factors why Bannerghatta road is the favorite space for all residential projects. Why buying residential projects in Bannerghatta road is worth it all?

Reasons that make Bannerghatta Road the Best Place

With its pleasant location, good connectivity and upcoming infrastructural growth, Bannerghatta road is becoming a paradise here in Bangalore. Here we are listing out the 'plus' points of the locality.

1. Bannerghatta – The Business Hub
Bannerghatta road is home to many big IT companies and MNCs. The IT giants like Oracle, Infosys, HP, Wipro, and so many companies have already found their place in the locality. Moreover, Bannerghatta is also an MNC hub, where companies like Accenture, HSBC, EY, etc find their way in.
The growth in technology is also fueling further growth of companies, who have already set their business foot in the place. Thus for working class people, almost all the prominent companies are available within a short drive distance living at Bannerghatta road.
2. Bannerghatta – Social Infrastructural Facilities
Bannerghatta is a lively place when we come across the social infrastructural facilities too. With regard to the educational institutions as well as healthcare facilities, the place has already bagged the name. Right from Ryan International School, to T.John Institute of Technology, and IIM Bangalore, Bannerghatta road features the best educational institutes.

Also, many famous hospitals in the city like Apollo, Fortis and Sri Jayadeva Institute of Cardiovascular Sciences and Research is located in this popular locality. Thus, living here, it saves hours of travelling in search of healthcare facilities. A more,secure and healthy life is a promise along with a promising locality.

3. Bannerghatta – Good Connectivity
What more than a well-connected road? Bannerghatta road stretches 50kms connecting Bengaluru's main city to the nearby towns. It starts from Adugodi on Hosur Road and connects areas like Bannerghatta, Jigani, and Anekal. Also, this highway is intersecting with Hosur road, Outer Ring Road as well as NICE road, which adds to the ease of traffic congestion.
Moreover, areas like BTM, Jayadeva, Hosur road- all of these have got easy accessibility from Bannerghatta road, thus making travelling less traffic bound.

4. Bannerghatta – Upcoming Infrastructure Projects
The next highlight, of course, the biggest advantage of Bannerghatta road is the advancements in infrastructure. The upcoming infrastructure projects point only in one direction- the increase in resale value of residential projects in Bannerghatta road. Currently, there are two major projects.
One main is the road widening initiative which is started from JD Mara Junction till Nice Road (7.5 Km of the stretch) to 45 meters. This development is supposed to resolve the traffic problems faced by the motorist for a longer period.
Yet another initiative is the underground metro line project connecting Gottigere to Nagawara. This proposed metro line is expected to eliminate the huge blocks of traffic, leaving the place less crowded. Also, the government has got plans to extend this up to Kempegowda International Airport. Moreover, the creation of flyovers and the arterial roads will sure reduce the traffic congestion in the city, especially in Bannerghatta road, making it an ideal place to live.
5. Bannerghatta – Best Retail Spaces Too
Shopping malls like Vega City Mall, Meenakshi Mall, Gopalan Innovation Mall are all part of Bannerghatta road. People living here do not have to run in search of a place for shopping activities. Moreover, there are many retail outlets of famous brands which provide some real good choices for the residents of this place.
Apart from this, there are many restaurants, cinema theatres and weekend getaway places here in Bannerghatta road. Places like Savoury -Sea Shell Restaurant, Seasons as well as Deja Vu offers a place for social gathering and eat outs.

6. Bannerghatta – Greener Spaces
Although Bannerghatta is known for all these above features, it is more about the tranquil, green landscapes that attract the people towards this place. The closeness to Lal Bagh botanical garden and Bannerghatta National Park helps people to engage in some quality family time. Moreover, the presence of acres of green stretch ensure a life much closer to nature and the environment.
Why Bannerghatta Road is an Ideal Locality to Buy a House?

In nutshell, Bannerghatta road is brimming with infrastructural facilities, good transportation facilities, development phases and so on. More than this, the availability of Metro and arterial roads speaks out that in future, traffic will not be a big issue over here. More than this, you just have to step out for accessing malls and restaurants, which is again a big plus for choosing Bannerghatta as living locality.
All these factors are tremendously contributing towards a healthier and happier living style at Bannerghatta road. Therefore, buying residential projects in Bannerghatta road is in all ways an investment.

This calls for more builders to come up with some quality residential projects in the locality. Since more projects are building up, the value for sale also is building up over here. But, the availability of all infrastructural facilities and the connectivity factors never fail to invite the attention of homebuyers towards this little paradise of Bangalore.

The Hub of all Residential projects

We at HousingMan too have some quality residential projects to showcase in Bannerghatta road. Since, many major builders like Sobha Limited, Prestige Group, Mahindra Lifespace Developers, Nandi Housing are finding their way into Bannerghatta road, there are many number of projects to choose from. Looking for a property then check the following link
Property to Buy in Bannerghatta Road
Find joy in leading a peaceful life, browse our portal to know more about Properties in Bangalore.