An apartment has a fixed floor plan; but your creativity can make it stand out in the horde. A house minus the welcoming feel is certainly not a good idea.  So, pitch in the creative side of your brain and try out some easy home decor tips that can give your dull abode a sassy makeover. It is a common perception that doing house interiors is a costly affair and you need to spend a bomb to get a celebrity-style house. But, this is certainly not true.  Apartment decorating is an art, which can clearly fit into a budget that too an affordable one. A creative idea can transform the things of routine into a master-piece if executed with a little thought and creativity. So, here are some of the apartment decorating tips that can help decorate your home tastefully on a budget.
The walls can be done creatively according to your taste: If you have a rustic taste, a few painted, small-sized earthen pots can be stuck in a zigzag fashion on the wall of the hallway. Such colourful addition on the wall imparts it with a lively appeal and the guests who visit your place will get an idea of your feisty spirit. Similarly, walls of the living room can be decorated with neatly framed, unseen pictures of your family members. The cost does not involve anything more than a few photo frames and nails, but the look that comes out is something you won't stop looking at.
Use of wall-papers or designer paints: You need not cover the whole wall with decorative paper. If the wall is toned up afresh, you can create a mix-and-match of stylish wall-paper and paint color to jazz up the look of the apartment. Blue and white, yellow and pink, green and magenta are some of the sparkling combinations of colors that can be used to paint on of the walls of the room in a trendy and a jazzy taste.
Decal is another easily available, cost-effective option that can perk up the interiors in a budget. Wall decals made of birds, trees and branches, or grasses and birds are some of the nature-inspired elements that can perk up the boring walls in a refreshing taste. People with religious bend of mind can use decals made of the Gods or other religious things they believe in, so with it a pious look of the house can be achieved.Ceilings of the rooms can also be done with 3D decals of stars, galaxy, rain, clouds etc. to feel the nature all around.
Key hangers and coat-hangers: Some very stylish key and coat-hangers that are based on certain theme are available in the market. These hangers can convert your wall into a designer grade element without ripping your pocket apart. Puppets or decorative stuffed toys can also be hung in the wall artistically for giving it a colorful makeover.
Create hidden storage using elements: All you need is a discarded table or cabinet to create hidden storage space. You can cover these with colorful papers or paint it in a new look and place it in a corner or at an angle to create hidden storage space. Distressed look furniture is also in vogue and offers cost-effective solution for adding modish elements to the interior of the room.
Hung elements for balconies or ceilings of galleries: Flower pots suspended from the ceiling offer an ageless styling element to the balconies. You have your share of nature close to you and a decorative piece for the area as well. Wind chimes is also an easy option, as these are available in ample designs and shapes giving a personality to the area.
Talking about hung elements – lamps decorated in paper covers, or fabrics, and then suspended to the ceiling in a funky pattern, give you a stylish alternative for lighting your room. These can be suspended using colorful wires and carriers like lanterns, making room vibrant in looks. You can also go a bit experimental and suspend a sliding bar or hollow rectangle at the place of your choice and hang towels, napkins, folded curtains etc for creating storage space in a small room.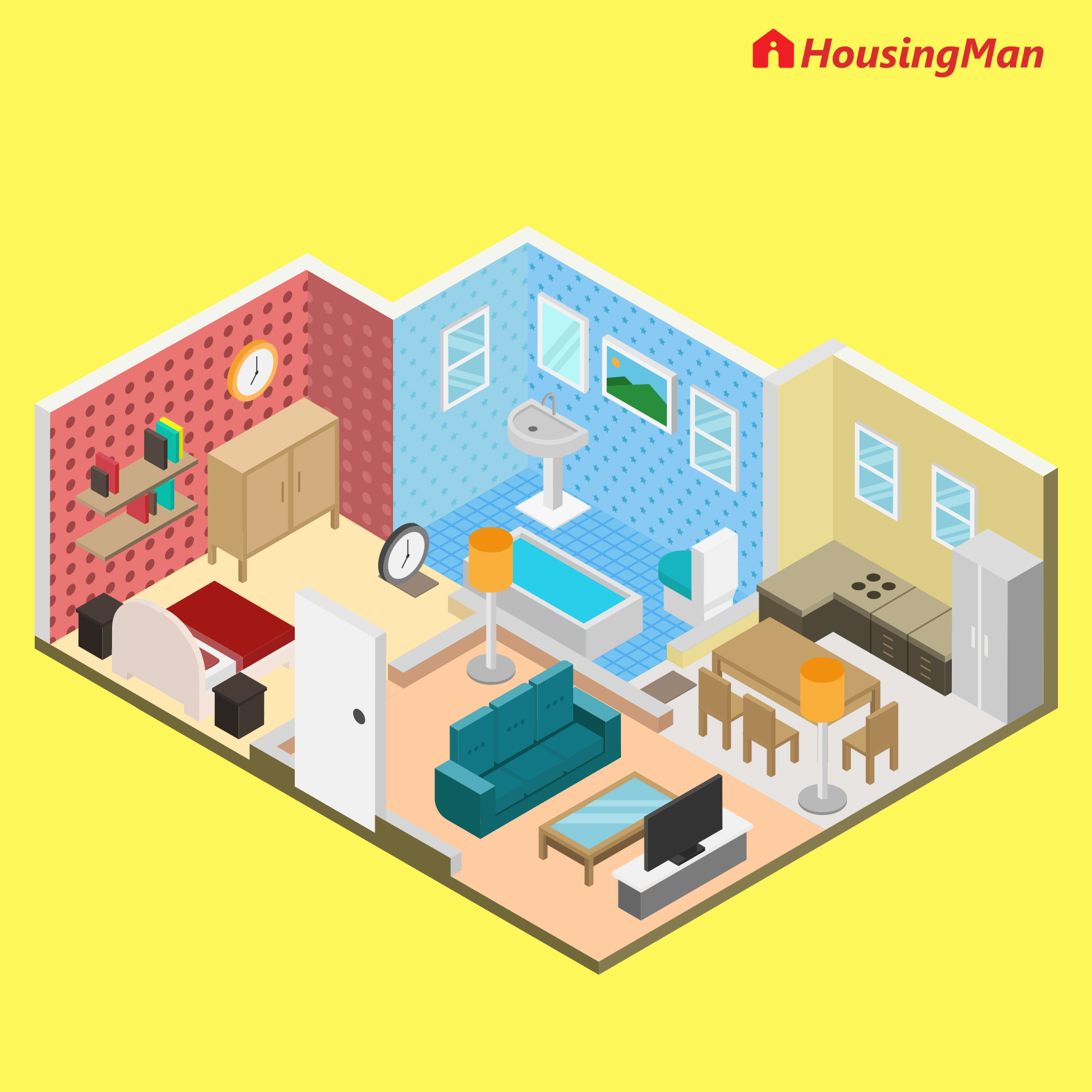 Update lightings and ceiling fixtures of the house: This is the most useful of all the apartment decorating tips. If the house has age-old lighting and electrical fixtures, these may not be having all those energy-saving features provided in the modern versions. Thus, you can not only bring in the newness to the look of the house, but also save on energy bills by changing the lighting and fans.
Tile stickers: Like wallpapers, there are tile stickers available in the home décor These stickers can be glued to the counter-tops of kitchen to create a brilliant look. Like tile stickers, one can also consider floor stickers to perk up the look of the room. Decorative mosaic or cartoon characters based flooring stickers are some of the styling elements fit and apt for a well-maintained room.
Decorative mirrors: If the room space is small, wall-size mirror or interestingly framed huge mirrors can be included in the apartment decorating tips. These mirrors can not only make a small room spacious, but also serve the purpose of decorating the space uniquely. Similarly, stylish mirrors in bathrooms and dressing area can help achieve a stylish home décor in low cost.
Painting the furniture and upgrading the door knobs and latches: When nothing works, just pay attention to door and window accessories and furniture of the house. You can get the furniture painted in stylish colors and patterns for that terrific stand-apart look. It helps extend the life of the furniture too. Similarly, doors and window frames can be painted fresh and stylish knobs and latches can be used to reinvent their look.
Apartment decorating is like pumping more life and flavor into the interiors. Most of the apartment decorating tips mentioned above cost no more than a few hundreds of bucks, helping you work out the home grooming plan in limited resources. There are certain things that money can't buy, and creativity is one of them. So, use your creative vision when money fails you, and convert your house into a dream abode in a shoe-string budget. But how would you do before you buy your dream property? Buy your home on www.housingman.com today! With a range of affordable options, HousingMan has a home for everyone.