Chennai, in the state of Tamil Nadu is located in the Coromandel coast, off the Bay of Bengal. It is one of the biggest economic, cultural and educational centers in Southern India. It is also one of the most-visited cities in India, by foreign tourists. The high rate of quality of living, strong heritage and cultural influences and musical tradition make it a one-of-a-kind city. Let's check, what makes it the best bet for investment in Chennai.

The thriving automobile industry, software services, medical facilities, textile and hardware manufacturing make it an important city. Further, the famous Kollywood – Tamil Film Industry, is based here. Chennai has also been selected for one of the 100 Indian cities to be developed as a "smart city", under PM Narendra Modi's flagship Smart Cities Mission.
While real estate investment, is a crucial investment, it is important to understand the outcomes of this long-term investment. Be it purchasing lands, buying apartments under construction, those under planning stage and also ready-to-move-in houses and second-hand properties.
While the last couple of years have slowed down the real estate investment in Chennai, mainly due to unattractive property prices, home-loan interest rates and lack of rental interest, because Chennai is essentially an end-user driven market. However, off late, the Chennai real estate market has picked up, owing to growing infrastructure and connectivity leading to a rapid growth and investment in Chennai.
Here are the best areas to invest in Chennai.
1. Avadi – Located in the western part of the Metropolitan city of Chennai, Avadi is one of the best places in Chennai for investment in residential properties and plots in the bustling and ever-expanding city of  Chennai. About 25 km west of Chennai Central Railway Station, it is surrounded by major defense establishments. It is surrounded by areas like Anna Nagar, Ambattur, Thirumnagalam. Lot of educational institutes, technology companies, gated communities have given a significant boost to the area.
Whether you are looking for residential properties in Chennai, flats in Chennai or residential plots in Chennai, Avadi is a great place for investment in Chennai.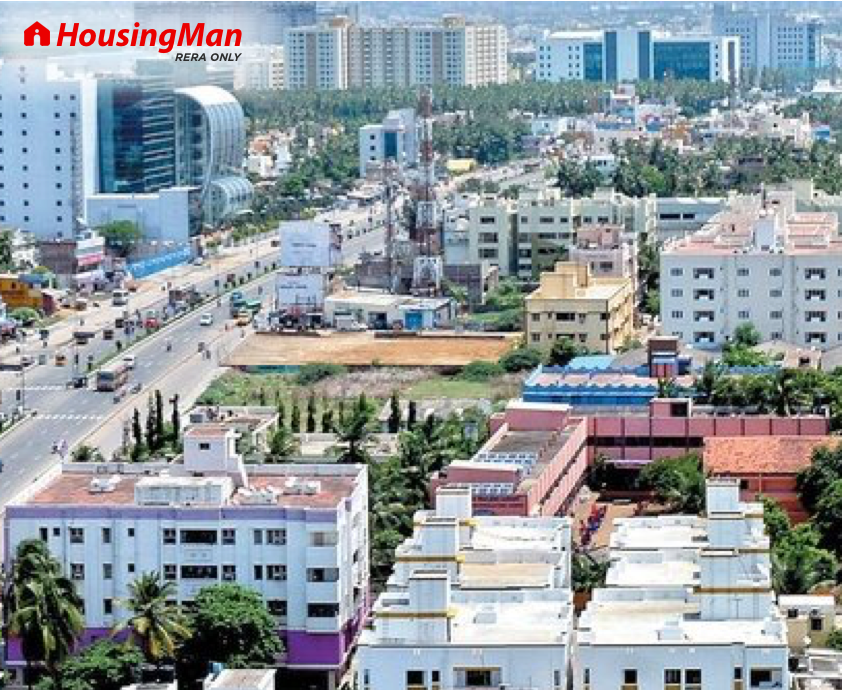 2. Sholinganallur – This is a residential locality of Chennai Metropolitan City, located on the IT corridor, south of Chennai. The economy, population, and infrastructural growth are attributed towards growing IT business parks, education hubs, global hospitals and lots more! It is located at an important junction connecting East Coast Road to Tambaram, Mudichur and Adyar to Mahabalipuram, along Old Mahabalipuram Road.
Proximity to near-by work areas and companies, a good appreciation of properties, infrastructure and transport facilities, close-by beaches and other entertainment aspects make Sholinganallur one of the best investment in Chennai.

3. Mambakkam – Located towards the south of Chennai. This area has been swiftly developing, with schools, hospitals and educational facilities coming up. Be it an investment in residential plots in Chennai or residential properties, Mambakkam is one of the growing hotspots for investment in Chennai. Especially areas like Mambakkam-Medavakkam road, Ponmar.
4. Chromepet – Be it commercial, shopping or recreation, Chromepet has grown swiftly, in the last couple of years. Great and growing land prices, medical and educational facilities have further, added on to this hotspot investment in Chennai. Surrounding areas include Chitlapakkam, Nemilichery among others, where properties and land values are steeping upwards.
5. Korattur – Located about 12 kms from Chennai Central, It is in close proximity to Anna Nagar. It has developed into an urban township over the years. It has many projects, both upcoming and under-construction developments by reputed builders. It is getting populated over the years owing to major developments within the area.
While these are a few areas to the question on best places to invest in Chennai, there are a lot of other places such as Urapakkam, Guduvancheri, Thirumazhisai, Madhavaram, Pallavaram, Ambattur, Medavakkam, Madipakkam, Tambaram, Porur among others, which are growing as investment beds and make for a great investment in Chennai.
A lot of ready-to-move-in properties, are sold at premium rates, especially in the outer suburbs and peripheral areas. The demand for housing sector has significantly increased making it a great investment.