Real estate sector has been booming exponentially in the last decade, expanding city limits and boundaries further.
With a huge influx of working population, it also affects the cost of living and liveability and as per the trends, the numbers are bound to only increase in the coming years making Indian cities amongst few of the most expensive cities for real estate investment.
The shift from rural areas to urban areas in the cities is reflected in the rising expenses of households and all things which come along.
Here's the Top 5 list of most expensive cities in terms of real estate in India.
1. Mumbai – India's financial and entertainment capital, formerly known as Bombay, tops the list in being expensive in terms of real estate. It's also listed among the top 10 commercial centres across the globe, contributes as much as 5% of India's GDP, home to major financial institutions, and corporate headquarters of many major Indian companies and MNC's.
All of this has led to a high number of employment opportunities, demand for housing and hence creating a high real estate demand in the city and rising residential projects.
A well-planned transportation system which includes all kinds of transportation facilities, affordable lifestyle and food for all kinds of pockets, makes it a city which can be adapted by all groups.
2. Delhi – The capital city of India and one of the most major Indian cities, Delhi is also one of the most expensive cities in India, in terms of real estate. All kinds of industries, India's political power, transportation connectivity and lots more have made Delhi a rapidly developing city, along with its near-by regions such as Gurgaon, Noida, Ghaziabad and others.
Delhi has a wide range of properties and different communities, ethnic groups and age-groups, including groups ranging from young children, college-going community and senior citizens.
3. Chennai/Bangalore – These south neighboring cities have seen a strong influx of growing population, making the cities expand exponentially. Lots of under-construction and upcoming projects by some renowned and reputed national and global builders/developers have made these southern city skylines full of residential and commercial towers. The cost of living in Bangalore is considerably higher, as a cosmopolitan global Indian city. Chennai is a bustling, conservative city. Both the cities are technologically advanced, in terms of companies and job roles.
Bangalore, also known as Silicon Valley of India, has many educational and research institutes, international firms, well-connected transportation and connectivity, along with the influx of IT companies, has developed quickly in terms of infrastructure creating a huge demand for residential projects, commercial developments and hospitality sectors. A different kind of walk-to-work segment projects, wherein residential projects are close to or imbibed within work areas/parks are gaining popularity.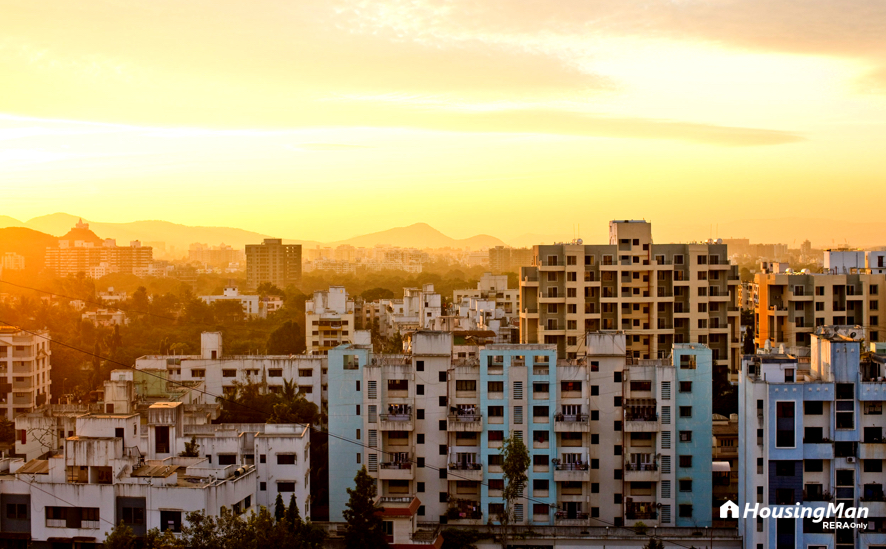 Chennai, on the other hand, has an active automobile industry. One of the safest cities with low crime rates and exporter of IT outsourcing services make it a go-to city, for a lot of professionals and has created a huge upsurge in the residential segment, with a large number of projects rising.
4. Pune – One of the largest metropolitan city and the second largest city of Maharashtra, this Indian city has developed as a growing IT destination. The city is also growing in terms of manufacturing, infrastructure and real estate. With large segments of HNI, students, and industrialists opting to make it a second home, there is a huge potential in the real estate segment. Although high transportation and rental costs, make it higher in terms of cost of living but also promises a higher quality of living.
5. Hyderabad/Kolkata – Although Hyderabad and Kolkata fall in the category of cheapest city in India, they are the top cities in India which provide a better quality of living in terms of the environment, governance and transportation. Hyderabad, popularly known as the city of pearls, the city has largely developed into IT, automobile, manufacturing and educational corridors. Good transportation and connectivity make it a promising city in the coming future.
Kolkata, on the other hand, is one of those cities with the cheapest cost of living in India and one of the least expensive city out of India's top five major metros. Although most populated, Kolkata has expanded its boundaries and with the help of a well-established transportation made housing and connectivity easier.
This list of cities in India, starting from most expensive cities to least expensive ones, have given a major boost to one of the major sectors in India – The real estate sector. Ranging from most expensive cities to least expensive ones these cities were culminated based on current property price in India, social infrastructure, transportation connectivity, development, economic and political scenario and capital appreciation.