The real estate market is gaining an increasingly significant place in every single person's life. It is one of the greatest investments that almost never fails you. As Louis Glickman says, "The best investment on earth is earth." And rightly so, the time has never been better to get your foot in the door! Nothing is a dead investment in real estate — whether you're buying a plot, a house, or a flat in the city. In fact, having a property in any city is your baby step forward in taking your current financial health to the next level! There are many real estate developers in India who can help you achieve this goal.
Nevertheless, we don't have to emphasize how devastating a wrong choice could be — you're already aware of it. That is why experts recommend that you should always go with the most reputed and recognised real estate companies in India. So, here is a list to help you satiate your quest for the top and best real estate developers in India and their prestigious projects you should be looking forward to.
There are some incredible real estate developers in India ruling the segment and responsible for bringing in a fresh new lease of life to this otherwise challenging segment. These include builders like Mantri, Shapoorji, Oberoi, Prestige, Godrej, Unishire and lots more, these real estate developers in India have their projects established all over India and below is a very comprehensive list of a few builders and their upcoming projects.
DLF Limited: One of the biggest names in the list of the top builders in India, DLF Limited has an experience in the Indian realty markets for the past 70 odd years. The company's projects are present in 24 major cities spread across 15 states. DLF has its influence over various segments of the real estate market. This including DLF Homes, DLF Offices, DLF Commercial, and DLF Malls. The residential project of DLF, called DLF Homes is one of the most popular ones in the business.

India's biggest real estate developers and their projects to look forward to

While catering to the Super Luxury, Luxury, and Premium segments of the residential properties, the projects undertaken by DLF include Condos, apartments, row houses, and duplex houses. As one of the top builders in India, DLF definitely offers a big bang for the buck. Some of their best projects on sale are:
a. DLF Westend Heights New Town in Bangalore: The DLF Westend Heights is located in the peaceful and fast-growing locality of Begur in Bangalore. The projects have been completed and you can avail new properties starting at reasonable prices onwards.
b. DLF Maiden Heights in Bangalore: This premium residential project from DLF is strategically situated in a peaceful locality near the Industrial area of Jigani, Bangalore. For those who want to own a peaceful home near their offices in Jigani or nearby areas, DLF Maiden Heights is a great choice.
2. Brigade Group: The Brigade Group is undoubtedly one of the biggest real estate companies in India, and in particular, South India. Headquartered in Bangalore, the Brigade Group also operates in almost all the South Indian cities and in Dubai. While a reputed name in multiple niche markets like education, hospitality, and property management services, the property development is one such sector that makes the Brigade group stand out of the crowd.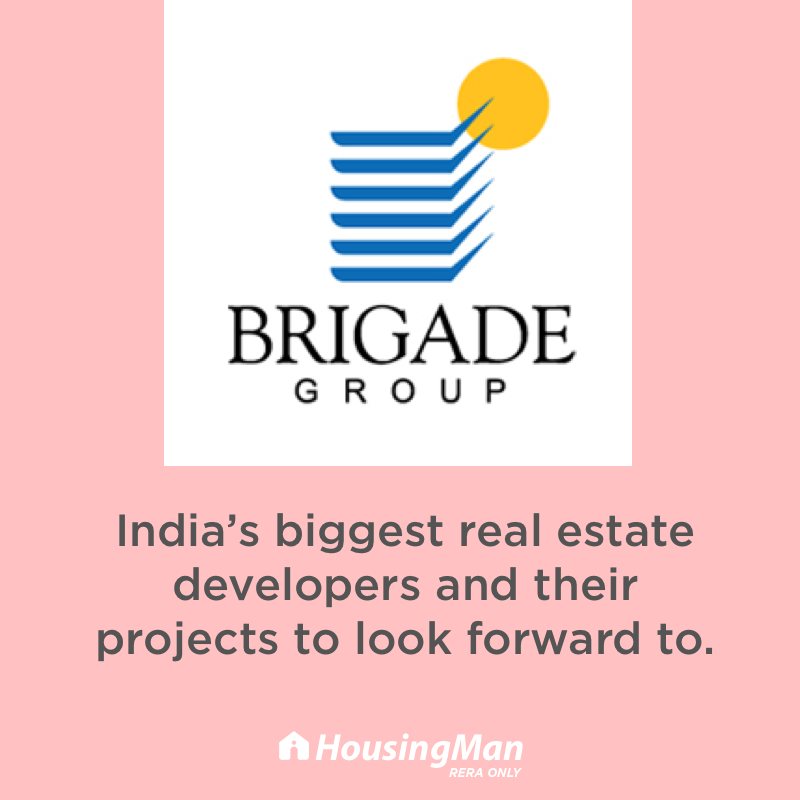 With a premium quality assurance, on-time completion, and an exceptional customer service, the Brigade builders truly deserve a top spot on the list of the top builders in India. That's exactly why, many of their projects have already won a lot of awards like the Best Theme-based Township of the Year Award for Brigade Gateway, National Award for the Best Project in the Mid Segment Housing category for Brigade Gateway residences, and much more. Some of the best-value projects from Brigade Group according to HousingMan reviews are:
a. Brigade Orchards Parkside in Bangalore: The Brigade Orchards located at Devanahalli offers new properties, and is one of the best picks for those who have a mid-segment housing requirement away from the mundane city life, yet not so far from the city.
b. Brigade Metropolis in Bangalore: If you're looking for a home smack-bang in the middle of the city, Brigade Metropolis in Mahadevapura is a property to be considered. The projects are completed. This is one of the top choices if you're looking for a home near Bangalore's IT hubs!
3. Sobha Limited: 'Nothing compares to the exceptional quality, resilient engineering, and awe-inspiring interior designs of Sobha Limited' — that's what they say and proudly present through their projects! And, this is the same thing that makes Sobha Limited one of the most preferred real estate developers in India. A company that has high regards to the environment and safety standards, Sobha Limited are quite adamant on various environment management schemes in their projects — be it through rainwater harvesting or occupant safety measures.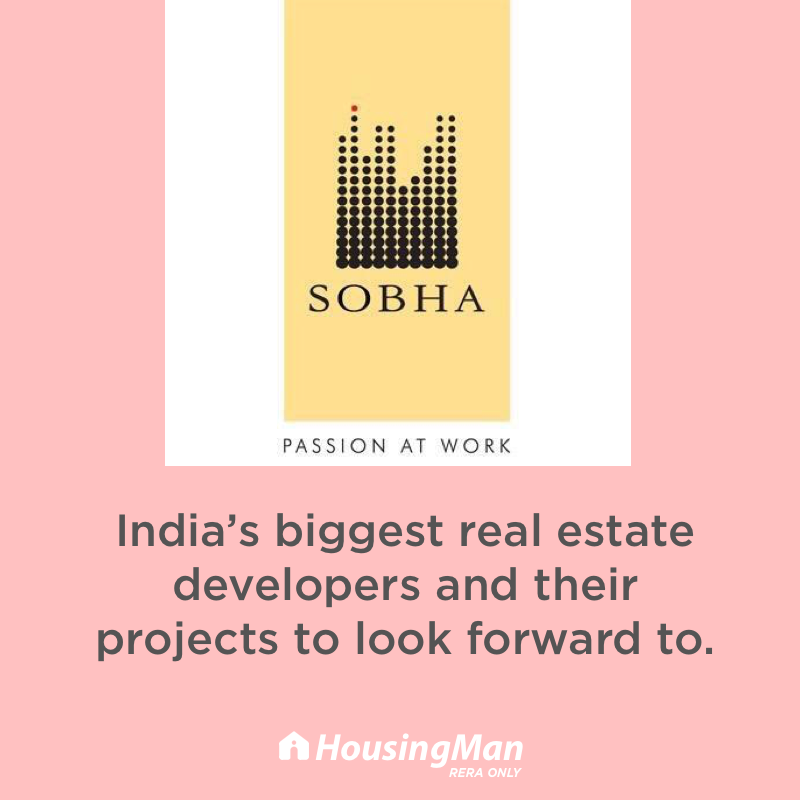 Apart from the prestigious residential projects, various corporate projects for renowned names, such as Taj Group and Hotel Leela Ventures are also under their belt. Being one of the best real estate companies in India, Sobha Developers have a strong market presence in 9 major cities of India; Kochi, Bangalore, Chennai, Pune, Gurgaon, Mysore, Coimbatore, Thrissur, and Calicut. HousingMan ranks their two recently completed projects as must-buys:
a. Sobha Iris in Bangalore: Sobha Iris is located in Bellandur, making it easily accessible from most parts of Bangalore city. They offer high-standard amenities such as swimming pool, clubhouse, and a children's play area.
b. Sobha City Mykonos in Bangalore: Situated in Thanisandra Main Road, Sobha City Mykonos is a go-to choice for those searching for a luxury apartment near Manyata Tech Park or the International Airport.
4. Salarpuria Sattva Group: Innovation and value are the not the only metrics to judging a real estate company in India — no one knows this better than the folks at Salarpuria Sattva Group, who have built their foundation on the trust factor, while also providing the best value, engineering, innovation, and technology.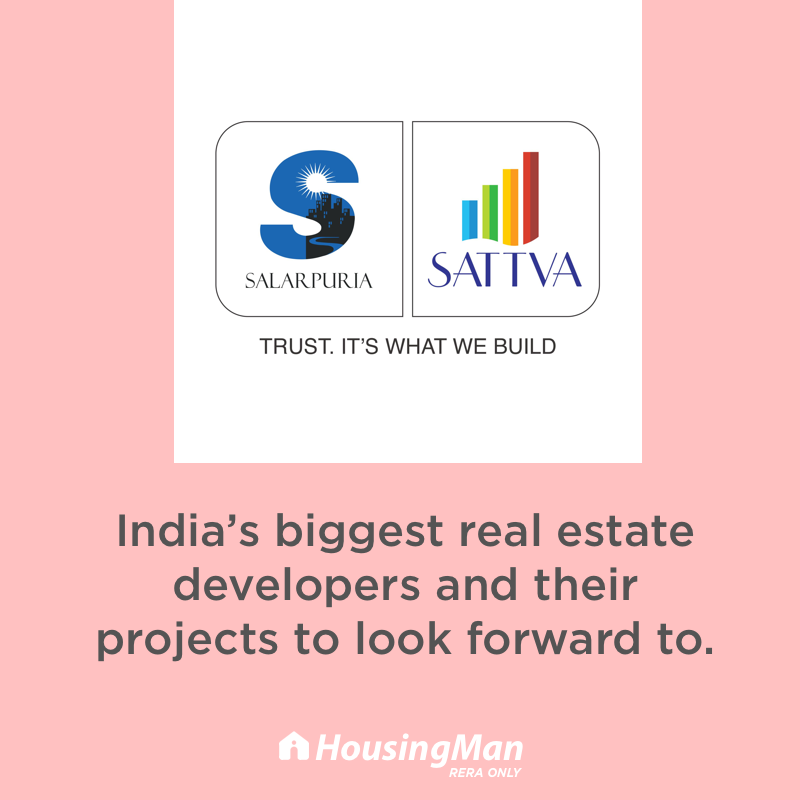 Their high level of client satisfaction is the result of a combination of all these factors. Founded in 1986, this real estate company has expanded its business footprints in many Indian cities. If you're interested in any of their projects, here are a few of HousingMan's suggestions from Salarpuria Sattva Group:
a. Salarpuria Divinity in Bangalore: Sprawling across 11 acres in the serene verdant near Mysore Road, Bangalore, Salarpuria Divinity is designed with the concept of Mandala — the spiritual symbol of Cosmos — in mind. You can select from a list of new properties ranging from 1BHKs to 3BHKs. This is a great place to be if you're looking to boost your spiritual energy and rejuvenate your lifestyle.
b. Salarpuria Sattva Anugraha in Bangalore: Salarpuria Sattva Anugraha is an ongoing project, located in Vijayanagar, Bangalore. Offering homes at an incredible per square feet price in the main city area, Salarpuria Sattva Anugraha is blessed with great connectivity to any place in Bangalore, making it a great investment option for the future! The possession is expected to start from June 2019.
5. Prestige Group: Prestige Group is a renowned property builder in South India.  In October 2010, the Prestige Group also successfully entered the Capital Market with an Initial Public Offering of Rs 1200cr. The Prestige Group today has become a name that is synonymous with innovation.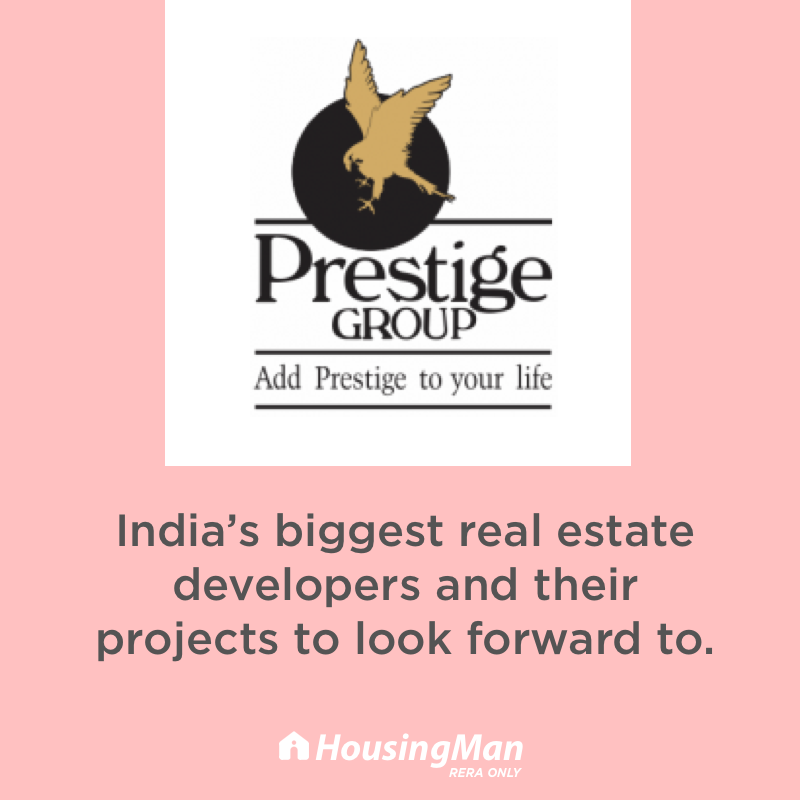 Where most developers fall behind in the areas of timely construction, customer satisfaction, and environment protection, the Prestige Group is a front-runner in these segments. That is why selecting the real estate developers in India, keeping these factors in mind, has become so crucial. The company has pioneered many landmark developments and is leading across real estate segments like residential, commercial, hospitality, retail, rentals and ready-to-move-in.
a. Prestige Song of the South in Bangalore: Prestige Song of the South is a mid-range residential project located in Begur Road. Even though this is an upcoming project, you can still pre-book your desired apartment, without waiting for the prices to be increased.  The premium location and the great price makes Prestige Song of the South one of the best investment properties.
b. Prestige Royale Gardens in Bangalore: Situated at Yelahanka Bangalore, Prestige Royale Gardens is an upcoming project by the Prestige Group. The project offers amenities including swimming pool, clubhouse, sports facility centre, health club, supermarket space,  landscaped gardens and much more.
Now that you've glanced through all these top real estate developers in India and their trending projects, the next thing you need to do is to make an informed decision before buying any property. We understand that buying a property can be the biggest hassle for a first-time buyer as well as a seasoned veteran alike. That is why finding the most suitable real estate consultant or professional real estate advisors is considered a big leap in the right direction. HousingMan is one of the most reputed websites in this regard, not only due to the irresistible offers and a simplified process but also because HousingMan takes care of all the grunt work for you, while you sit back and enjoy your coffee!