The life of rich and famous is filled with extravagance when it comes to a luxury home design and all the luxury home amenities. Luxury is synonymous to being expensive. While a niche of home-buyers look out for a home which is unique and has some new home amenities, they also aspire to have some of the best and luxurious amenities to support their lifestyle needs.
What makes a home a luxurious one? What stands with luxury home amenities? What sets a luxury home apart from a regular generic home? Here's a list to give you an understanding of what sets a luxurious home or luxury flats apart from the rest.
1. A locational advantage – Location is the foremost essential consideration, when looking at real estate purchases. A great location whether within or at the city suburbs offering great views, proximity to best of schools, colleges, hospitals or star hotels, is considered the best bet. Privacy, comfort, great morning and evening views make it an irresistible feature.
2. High-tech home automation – Technology plays an integral part in any luxurious home. Right from the entrance, with automated video door calling to remote-controlled curtains, home temperature and climate setting, lighting controls, bathroom water temperature control, gas-leak alarm, state-of-the-art security systems including cctv cameras, intruder systems and remote smart phone monitoring for security control, and lots more at the click of a button or voice command.
All these home-automation features can be controlled with a smart-phone, from any location. These systems, help in ensuring a blissful and comfortable stay, with no worries.
3. Media room – One of the key luxury home amenities include, a complete entertainment room, private home theatre, cozy couches, adjustable lighting and surround sound. This could be used to watch your favourite movies or videos and relax at a space with friends and family.
4. Large open floor plans and breathable spaces – While most luxury homes are expected to provide utmost privacy and large open areas, with considerable storage and accommodation, it is also expected to have an airy view, open from all sides. Providing ample sunshine and natural lights along with fresh air is a luxury, setting it apart from most of the crammed-up housing projects in India.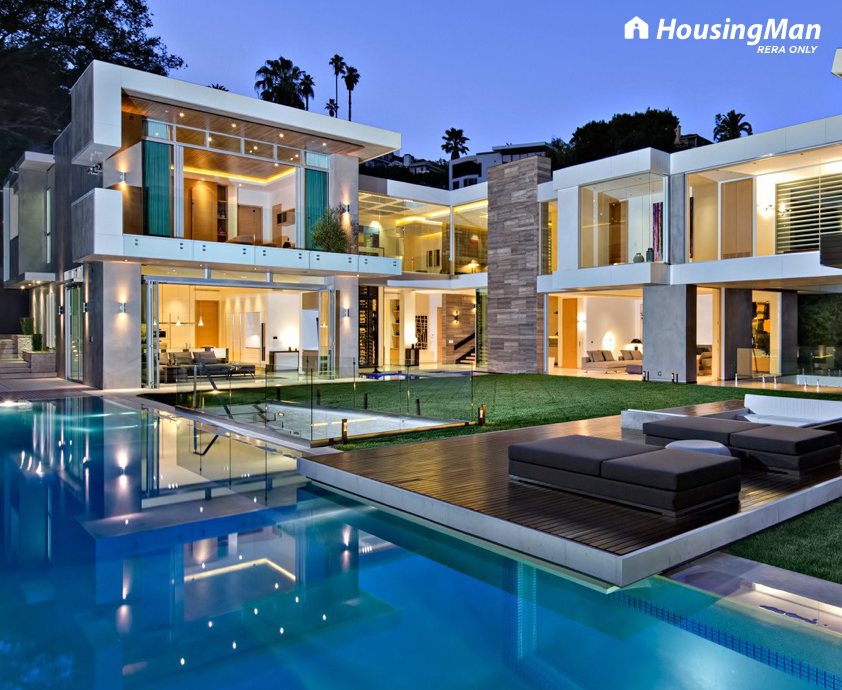 5. Luxury bathrooms – From open view bathrooms, spa, Jacuzzi, sauna and lots of other features, including automated designer taps, commodes and music among others, bathrooms are designed as luxuriously as the other parts of the house.
6. High-tech Kitchens – The heart of every home – The Kitchen. With the best of devices, appliances, and finest cutlery, luxurious home kitchens are expected to have best of commercial use appliances to make cooking fun, easy and as elaborate for the meal needs of such homes. Along with such appliances, also come automated and hi-tech modular cabinets, chimneys, panels and more, which are dust-free, spill-free and easy to clean.
A great luxury home calls for open kitchens, with a luxurious dining space. Be it entertaining the guests or a romantic dinner with your loved one, the best of quality appliances will lead to the best of time, with the best of luxury on hands.
7. Lavish interiors and exteriors – Most luxury project developers have collaborations with acclaimed interior designers and architects to provide a truly global and international lifestyle to its residents with designer artefacts and fixtures. International brands and famous designers provide uniqueness and give a distinct identity to the overall décor.
A few more amenities that forms part of the luxury house amenities checklist, from the ones mentioned above, include, a walk-in wardrobe with ample storage, full-fledged designer bars, private home-office cabin, big balconies, private garden areas, roof-top/infinity pools or indoor swimming pools which are temperature controlled, state-of-the-art spa and gymnasium and in fact private gyms in a few projects, including all kinds of sports facilities etc.
The main goal being, the creation of a space where a homeowner never feels the need to leave the comforts of the residence – it's all there at their fingertips.
A luxury home, although lavish and extravagant, comes with a hefty price. Although it could be in par with the best of star hotels and most famous and breath-taking resorts, it also takes in a lot of efforts, time, patience and of course money to manage and maintain it. Convenience in all aspects and features, for a comfortable stay is the ultimate luxury.
A luxury home provides utmost privacy and maximum space. With breath-taking views and lavish garden areas, a luxury home provides an extravagant and comfortable living. With minimum neighbour intrusion and separate lobbies, they are designed with 1-2 units per floor to give you your own space. Be it a luxury villa or a luxury apartment, a luxury home provides scope for ample fulfilment of the dream life you always wished for.