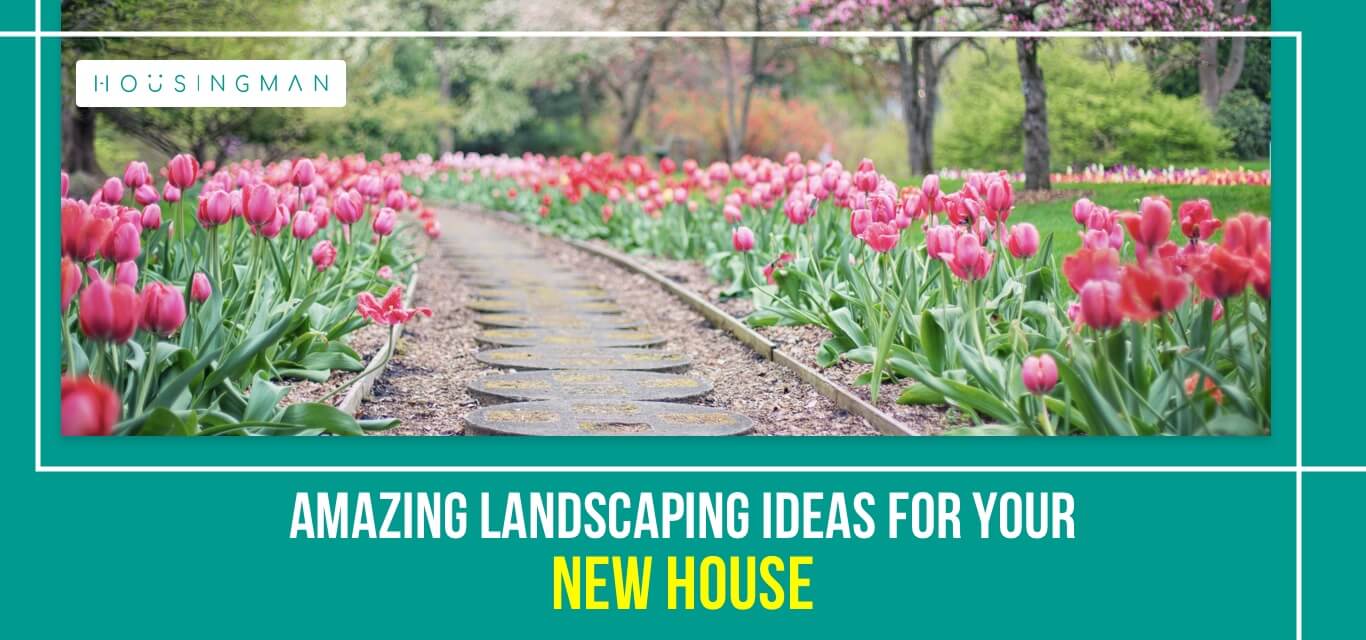 To impart beauty to your new house is really amazing. Isn't it? How would you want to change the way your new house look like? Scroll through some landscaping ideas for your new home.

Now, let whoever passes by your new home, give it a mesmerizing look.

What Exactly is Landscaping?

Before you start exploring landscaping ideas for your new home, let us first know what exactly the term landscaping is.

Landscaping is not just about planting a tree or watering a flower. It is just more than that, more than flowers, shrubs and trees. Yes, no one here is talking about starting a nursery, but about rearranging your home in an attractive manner. Planting trees are just one option. But there are 100 other ways to make your home look appealing. Landscaping involves both softscaping as well as hardscaping. Thus, this includes the replacement of worn-out hardwares, the old fixtures, the dimmed lights and much more. Did you know that presenting your gateway with a new lamp or solar lights are equally attractive as a new plant that took its form recently?

Scroll down to read few points on landscaping ideas for your new home.

What all Elements to be Checked in Landscaping?

We have already discussed a few key elements that have to be modified for bringing new landscape views. Let us ponder a little more on the same.
1. An Inviting Entrance
Let's say, your home entrance is, in fact, the entrance to your habits too. By seeing the home entrance one can actually know more about you. That is why building up or even modifying you entrance is more important. The entrance or the gateway can be made inviting by adding beautiful colors that capture the hearts. You can also go for best lightings in the gateway which again add color to the entrance. Moreover, you can go for symmetry in the entrance design because people nowadays are die hard fans of symmetry. Additionally, symmetric houses looks more pleasant and allure. Thus, go for a small lamp or a wooden gate that would create an artistic impression in the entrance part.
2. Beautiful Walkways
Once you walk in through the gates, comes the walkways. It is equally important to have spacious and wide walkways. There is also a possibility to add charm to a walkway by including stones, pavers or bricks with attractive colours and designs.
3. Boundaries and Fences
Edging is the process of separating the lawn area from the walkways. This is required to protect the lawn as well as the walkways. There are many landscaping ideas for new home fences. If you want to create an artistic impression, go for wine bottles or colored hockey sticks to fall along the boundaries. The painted wine bottles when kept upside down will look like a fence and will look more attractive.
4. Flowers and Shrubs
Now since your home is bounded by a fence, you can plant some beautiful flowers in line through the entire fence area. Planting some trees not only add beauty to land but also provide some areas of shade. Maybe you have the provision to use an old trunk or a can and use it as a planter.
5. Installing New Garage Doors
Once the flowers are planted, you can check if the garage doors are good enough. If not, landscaping ideas can include new garage doors for your new home. You can go for wooden, steel or fiberglass in the selection of garage door material. Also, by choosing a vibrant color, one can add an appealing look.
6. Replacing the Hardwares
Replacing the old hardwares, no matter whatever it is, helps in giving your home a new outlook. Hardwares in the sense, the old and rusted door locks, door handles or even the old lamps. By replacing all these with new materials, landscaping can be improved well.
7. A Fresh Patch of Paint
A fresh patch of paint is after all a necessity in the new home. For a house to look newer, fresh and bright patches of paint is required. You can go for brighter colours for the living and the kitchen, and light shades for the bedrooms. Colour patterns can change the appearance of a room to a larger extent. Thus, choosing the right color matters much in landscaping ideas for a new home.
8. Art that Captures Attention
Lastly, you can art deco your new home. There is nothing as perfect as decorating the entrance as well as the rooms with paintings, artworks and deco lights. By keeping a particular artwork, or a painting, one can make the room appear even brighter and lighted.
How Good Landscaping Ideas for a New House will Raise its Value?

Effective Landscaping ideas for new home raises the property value of  homes from 10 to almost 15 %. That is to say, with more landscaping done, the property will look more appealing. This will attract more potential buyers who will be more than willing to pay the estimated amount for the project. Together with hardscaping and softscaping investors are trying to get back more return by selling a property and we can see that to a large extent it is winning.