Lighting forms a very important part of home décor. Any home looking dull can get extra zing with the correct type of lighting solutions. In the modern times, when life is unimaginable without lights, the lighting solutions for home do way more than adding to aesthetics of the rooms and exteriors. Their role in lighting up the spaces cannot be ignored especially during late hours or even during daytime in those areas that do not get ample sunlight during any part of the day. So, what kind of lighting solutions are available? Let's find out.
LED lights
Lights do consume energy and therefore, it is important to select the lighting solutions for home that prove easy to your pocket. LED lights and CFLs (Compact Fluorescent Lights) are ideal for every room of the house. LEDs or LED bulbs are small, solid and energy-efficient lighting solutions. These look similar to bulbs, fit into the bulb sockets and emit bright light without causing much heat or consuming extra power. LEDs, these days, are made compatible with the existing bulb sockets, making it easy to shift to these energy-efficient solutions without causing any major change in the home lighting design.
The use of LEDs and CFLs proves to be quite beneficial for home use. Firstly, these last longer than conventional light bulbs. It is said that these home lighting solutions run 10 times longer than other electric bulbs. The LED lights are mercury-free home lighting solutions and thus, are quite safe for the user as well as the environment.
LED lights consume very less electricity. In fact, the energy consumption is reduced to almost 2-17 watts. Another interesting aspect is that the LEDs are less energy consuming than CFLs too. These do not emit much heat (only 3.4btu's/hour), therefore, are instrumental in cutting down the air-cooling cost too.
The common types of LED solutions include:
This style of LED bulb is composed of clusters of LEDs covered by indented lenses that help in spreading the light over a wider range. The diffused bulbs are best used for lighting the rooms, porches, accent lamps and low-light applications that require bulb to run for longer periods. These bulbs are also employed in accent lamps that form important part of home lighting design. Living rooms, dining spaces, and other more frequented areas of the house are normally lightened up with diffused bulbs.
These are power-efficient bulbs that deliver light like a 40-watt normal bulb, but does not consume more than 10 watt power. These are fitted in areas where dim bulbs are required. Such as bathrooms, inner closets, walkthroughs, decorative lighting pieces or furniture etc,.  They have a 200 degree beam angle to facilitate spreading of light in a wider area.
These are being used prolifically in high ceilings in luxury residences and commercial areas. The LED tubelights are replacing the conventional fluorescent tubelights everywhere because of their long-lasting performance. The longer life of these tubelights is a great cost saving factor as these are not to be replaced so often. Thus, these tubelights are ideal for home lighting as well as lighting of commercial spaces having high ceilings.
CFLs (Compact Fluorescence Lights)
Lighting solutions for homes should be in consonance with the topography of the room. CFLs are trending lighting options these days because of them being long-lasting in performance and better in design. The CFLs are reliable, long-lasting and energy-efficient home lighting solutions that can be used in all the rooms of the house.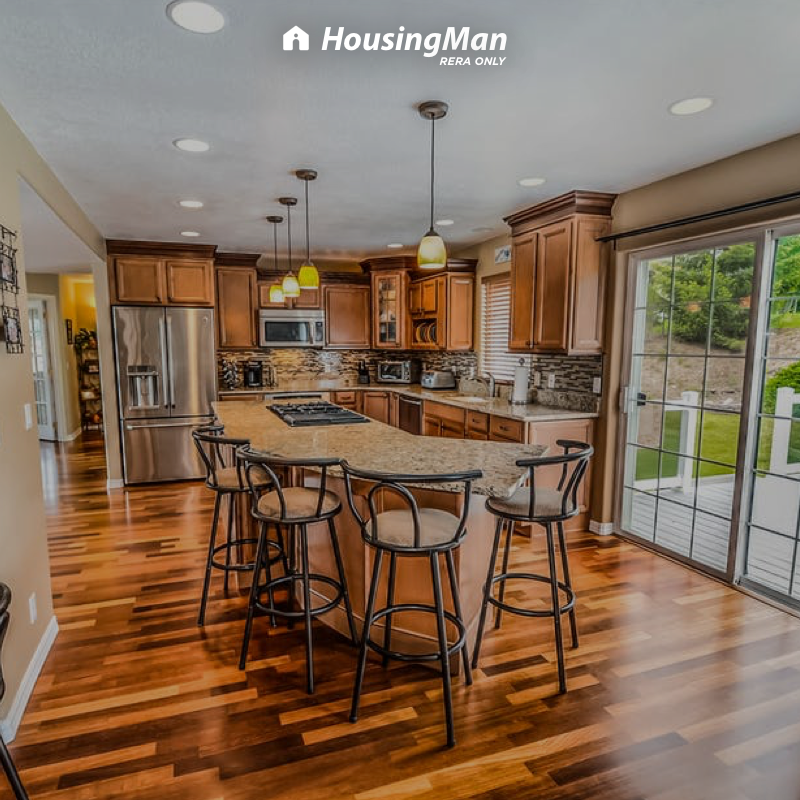 CFL lights come imprinted with letter 'K', called Kelvin number. If you are looking for a bright lighting design, you need to buy CFL lamp with Kelvin number falling in range of 3500-6000. The CFLs emitting soft bright light like incandescent lamps have K number ranging between 2700-3000.
In addition to brightness of the light, the CFLs can be selected on the basis of bulb design.
Spiral Lamps
These CFL bulbs have continuous spirally designed tube that has light emitting qualities similar to a standard incandescent bulb. Spiral CFL bulbs are made available in varying sizes to complement most of the commonly available fixtures.
Triple Tube Lamps
The CFLs of triple tube type have more tubing per area and this helps in generating more light from a shorter bulb. Thus, these lamps prove to be a space-efficient solution and look great due to their compact design too. Because of their ability to emit more light per bulb, these are used widely in small items such as table lamps, hanging lamps, reading lamps and in those applications using bare bulbs.
Standard Lamps
The standard CFLs are provided with a standard base complementing all common lamp sockets and cover of these lamps is dome-shaped. These lamps have appearance similar to conventional light bulb, but their output is of soft-white type, typical of incandescent bulbs.
Globe Lamps
Home lighting gets a stylish makeover with Globe shaped CFL lamps. These lamps are fit for bathroom vanities, mirrors, where multiple bulbs are required. Such arrangement gives way to heat build-up. Since CFL globe produces less heat, this helps maintain optimal temperature at areas with restricted spaces, in addition to providing a soft-white light.
Flood Lamps
If you are looking for lighting design that is not composed of halogen lamps, flood lamps can prove to be a better alternative. The flood lamps are good for sideways lighting, pavement lightings, etc. They are liked a lot because of the soft and white light these produce. They help illuminate a larger area.
Candelabra

Home lighting design comprising of chandeliers and sconces makes use of candelabra CFLs. These lighting solutions have screw-in, torpedo-shape design and their small base complement smaller lighting fixtures beautifully. Some of the regular sockets can still accept these small-base bulbs when used with a socket reducer.
Conclusion
Lighting is the most essential part of a modern housing. There is a typical lighting design for every budget size. Whether it is just for table lamps, or for complete home lighting, the selection of lighting solutions for home should be done wisely. It helps save cost and adds to the looks and feels of the house too. The need of the hour is LED lights and CFLs that are  great energy-savers. They also look fabulous and complement the spaces really well. Make right options as per the areas and spaces within your house, it can completely change the dimensions of the house.