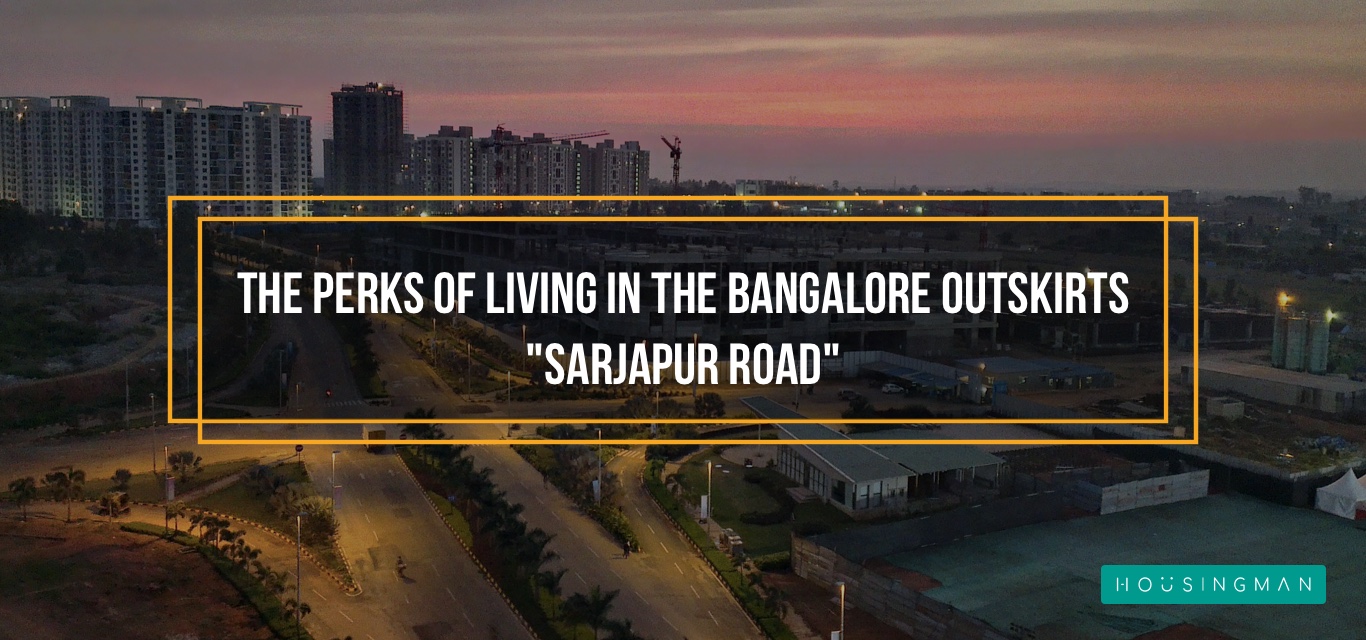 Bangalore is also known as "India Pensioners Paradise". The perfect place for old-aged people to lead a happy life. Moreover, the city is 'the Silicon Valley of India' making it home for all young tech-savvy too. But these days the trends are pointing towards the growth of outskirts of Bangalore, specifically Sarjapur Road. This is especially when we consider the residential projects and real estate investment in Bangalore. Sarjapur is a fast-developing part of Bangalore with good road connectivity to key IT cluster areas like Whitefield (15 km), Electronic City (19 km), Outer Ring Road (16 km), Marathahalli and Koramangala. Let's read more about this here. You can also read about why Bannerghatta road is suitable for residential projects here.
An overview
Koramangala was earlier part of Bangalore outskirts and later jumped to Central Business District (CBD). Just as we look into real estate investments in Bangalore, we can see those outskirts outweigh the CBD. Especially places like Sarjapur Road are favorite among home hunters. Before we dig further into the discussion, let's see a few examples of outskirts in Bangalore. Hoskote, Bidadi, Sarjapur and Devanahalli areas which also includes the new international airport areas, falls in the list.
Why Bangalore outskirts?
With so many IT professionals moving into the city, it is important to make wise property investments in Bangalore. There are some unique features that make the outskirts of Bangalore better while buying a residential project. Read on to bring out the reasons.
1. Excellent connectivity
Bangalore outskirts are not just the favorite spot for homebuyers, but also the sellers. The reason for the Sarjapur real estate growth is, in fact, the good connectivity. Almost all the prime localities of Bangalore are accessible from this outskirt area of Bangalore. Be it the tech hubs, the CBD areas or even the farthest of place, accessibility is quite easier.
Also, the developing part of Northern Bangalore is close to Kempegowda International Airport, which ensures that traveling is quite easy. The availability of Metro is yet another factor that contributes to the development of real estate investment in Bangalore. Also, one can find the Outer Ring Road and Bellary Road add up to the connectivity.
2. Presence of big IT Companies
Living at outskirts of Bangalore doesn't mean that you are far away from the central city. Most of the tech hubs and major influencers in the IT field are finding their niche in the suburbs of Bangalore. Some among the top companies like Accenture, Wipro, Microsoft, etc has found their niche there.
The reason behind buying commercial property in outskirts of Bangalore is that large acres of commercial plots are available only there. With this, more demand for residential complexes also arise and this leads to further development of suburbs. Among these areas Sarjapur and Whitefield top the list in real estate investment localities in Bangalore.
3. High appreciation rates
The next factor is the high appreciation rates. Compared to prime localities in the city, these suburbs offer high income at comparably lower prices. Also, the presence of big IT companies force the working class people to look out for rental homes. Thus, the investors will get a good income from rental value too. Buying a property in outskirts of Bangalore is no way a lose.
4. Green way of living
Green is hard to find in this busy, crowded city and suburbs has plenty of it too. The most appreciated element in relocating to suburbs is that one can enjoy the serene surroundings. Lined up with trees, flowers and garden space, this area offers a clean environment to live. Especially, places like Sarjapur has quite a large space in greenery which helps in unwinding after any tired day.
5. Type of properties
Yet another feature is the availability of the different types of properties in the outskirts of Bangalore. This varies from residential enclaves to plots and even gated communities. While looking out for a home to buy in the outskirts of Bangalore, there are villas, apartments and even studio apartments to choose from. The only thing that matters is choice since many of them exist though.
What's special about Sarjapur Road?
Now the question is how Sarjapur Road became the most sought-after locality in the outskirts? What made the homebuyers to sting to this particular locality? Below, let us concentrate on the unique features of Sarjapur Road that made it the topper of residential localities in Bangalore.
1. Infrastructural growth pattern
No doubt, Sarjapur Road is the best in Bangalore in providing infrastructural facilities. Right from hospitals to schools and even shopping malls, this place is never in short of anything. The place has got some big shopping malls where one can spend the weekends off. With CBD areas like Koramangala in proximity, it provides access to malls like Forum, Bangalore Central and so many more. Also, there are numerous hospitals like Columbia Asia close by to the place which makes it a comfortable place to live.
2. Well connectivity
With regard to connectivity, again this suburb of Bangalore, Sarjapur is excellent. The prominent reason as we all know is the extension of the metro, in fact, the recent progression. But, we cannot forget the relevance of Outer Ring Road too in the growth phase of this region. Yes, Outer Ring Road and NICE Road are very easily accessible from here. Also, the place has radial roads which connect it to the commercial hotspots like Koramangala and Bannerghatta. Thus in every way, Sarjapur Road is connected, that too, to all the parts of the city.
3. Proximity to the Tech Hubs
The next highlight is the proximity to tech hubs. Since Whitefield and Electronic City are located near to Sarjapur Road, most of the tech companies are accessible too from here. The place is surrounded by Global Tech Park, Prestige Tech Park 2, Novotel Tech Park, etc and that makes Sarjapur the favorite residential plot for techies too.
4. Residential localities
Now, let us check which areas are more suitable while buying a property in Sarjapur road. Areas like Madiwala, Koramangala, and Electronic City are more suitable for residential projects in the Sarjapur Raod. Since these areas are surrounded by tech companies, employees find it easy to search and find home here. Additionally, these areas also enjoy all other features, including the lined up green trees and gardens.
5. Price trends
The price trends of this area vary from Rs 4,500-6,300 per sq ft, as per Q2 2016. But recently as we check on the past 3 or 4 months;
The highest locality price is 7221 per sq ft. Vaishnavi Commune Villa is a luxury project located in Sarjapur main road and offers a grandeur lifestyle. Check Vaishnavi Commune Villa for more details.
Average Locality Price: Rs 5,871 per Sq-ft. Brigade Parkside East is an average priced residential project and offers 1& 2 BHK apartments for sale.
Lowest Locality Price: Rs 4,522 per Sq-ft. There are also projects like PSR Aster which is very much affordable and will be available at lower prices compared to others.
Also, the appreciation rate is almost 4% approximately.
Invest in residential projects in Sarjapur Road
So far we have discussed the features of living in the outskirts of Bangalore, especially Sarjapur Road. With wonderful infrastructural facilities, good connectivity and best prices, Sarjapur turns out as one best place to invest in, especially when it comes to residential projects. Godrej Reflections, Pionier Lifestyle, Brigade Parkside East, etc are some wonderful residential projects to buy in Sarjapur road.