The home purchase is a crucial and a lifetime decision. A first time home buyer is often confused when it comes to the residential real estate. Buying a house is a dream for most Indians and real estate investing is a moment of cherishment. Most often the idea of being a homeowner is what attracts home buyers to buy real estate. A first home brings along a lot for the house owner.
The process of buying a house may seem a tad bit complicated, but with a right real estate agent and a few home buying tips, your house search will get easier.
Here's a home-buyers guide and a few things to keep in mind before you make your first home purchase.
1. Look for the right real estate agent / real estate broker
A good real estate agent / real estate broker will know in and out about real estate. A practical experience of the real estate market is important to establish how good an agent is at selling real estate. HousingMan has an expert professional real estate sales team and RERA compliant builders listing on its website – www.housingman.com.
Buy apartment or find a house you have been thinking for. With HousingMan the expert sales team designate an individual real estate agent specifically for you, to understand your needs and goals. They then help you establish your preferences, show you the available options and help you evaluate. They also help you with the site visits and guiding with the final paperwork.
2. Look for important documents you must have from your builder
Documents are most crucial. Be it when you are making the money advances, signing documents or agreements.
Always make sure, to have these documents in place.
1. Allotment Letter
2. Builder-buyer agreement
3. Copy of the Possession Certificate
4. Occupancy Certificate
5. Tripartite agreement
6. Full payment receipts
7. Allotted parking details
While these are the most important documents to check before taking possession of the property from a builder or developer, there could also be some additional documents, such as property deeds, khata certificate, RTC certificate, and so on, if you're planning to buy a plot or an individual home.
Keep sufficient copies of the documents. Be it physical or digital. Provide the same to your insurance provider. Keep the documents in the safest zone.
3. Fulfill all the Tax saving formalities
If you have applied for a home loan, you can avail tax benefits under section 80C, section 80EE and section 24.
Section 80 C – Tax benefit on the principal amount of the loan.
Section 24 – Tax benefit on the interest rate paid on the loan amount.
Section 80 EE – Tax benefit on the interest rate for the first-time home buyers.
Since these tax benefits are subject to multiple terms and conditions, take help of your loan provider to make you understand the jargons well.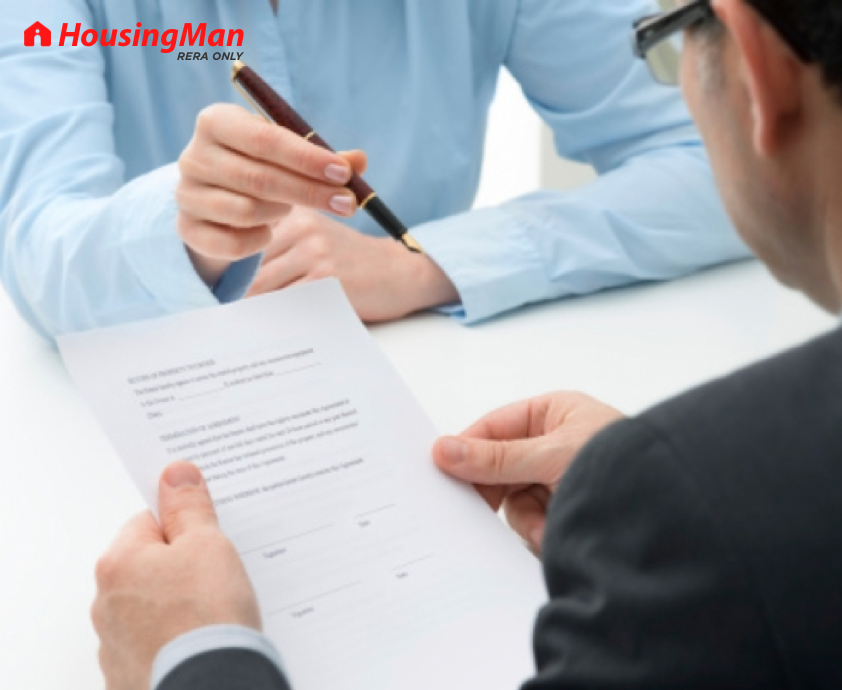 4. Negotiate, Research about the builder and the Neighbourhood
One of the important things in your home buying checklist should be these points. While you get started with HousingMan, all these points are taken care of. Since HousingMan lists only RERA APPROVED property for sale where all the builders and developers are pre-checked, assessed and verified before listing to ensure the best for the customers.
But never the less, make sure to negotiate for the best, from what is already being offered. Research by yourself about the background of the builder. Personally, check the neighborhood.
Finding the right neighborhood is just as important as locating the right house.
Here are a few tips – Research the schools, even if you don't have kids since it affects a home's value. Look and check how the local safety and crime statistics are like. How close are the nearest hospital, pharmacy, grocery store and other amenities you'll use located? Also, make sure to drive through the neighborhood on various days and at different times to check out traffic, noise and activity levels.
5. Utility Documents, updation of ID cards and security
Electricity and water utilities should be under your name. Keep them updated, as soon as property transfer formalities take place. Update all your legal and identification documents at the right time.
Make sure only you have access to the locks, and all the main door locks are new. Only you and your family should have all the keys.
6. Know the society and its rules.
Keep yourself abreast with all the rules and ways of living within the society. Place your nameplate at your residence. Know your neighbours. Keep your contact list updated with all the essentials required, such as the admin office, the guard, the plumber, the laundry man, at least two neighbors (if they feel reluctant to share, you give your number to them), nearest hospital and nearest medical shop. Set up your telephone/ internet/television connection before you move in, so there are no extra movements or troubles when you are already moved in and you have these essentials ready when you are moved in.
7. Warranty Information and Surveillance
Make sure to check and make a written agreement on what is shown as a sample flat/villa and what will actually include in the final property handed over to you. Be sure of what will be part of property components by the builder, and which components will be subject to third-party warranty and which all can be reached upon directly to the builder. Whatever will be third party warranty, those essential documents should be handy for you all the time.
Get your property inspected personally, apart from what is already done by the builder. Make sure to get a point in the agreement that in case of any changes or flaws detected, then rectifications will have to be made accordingly.
Check for the proper functioning of the common areas like lift, lobby etc. Check for the quality and flaws if any on the wall paint, wall cracks, leakage and electric points.
How to buy a house? Well, this should be your motto – Check, Research, Look, Inspect. Whether it's your first home or second home investment, make sure to always ask as many questions to your agent/builder/developer.
A first home is a special feeling, make the best out of it to carry the memories for a lifetime.