Real Estate Investment is the prerogative of a handful few – if this is what you believe, then you certainly need an eye-opener. Investing in real estate, in the present times, is thought about by one and all. It is one of the avenues that deliver returns like you have just hit a jackpot. But, many myths revolve around property investment which stop people from taking their chance of making a safe, fruitful investment. The more the property types, the more numerous are the notions that are nothing beyond a product of vivid imagination. So, here are some of the myths that HousingMan has been able to jot down because of the continuous interaction with a large number of people with different mindsets.
Myth no 1: I am a service class employee; I cannot find time for Real Estate Investment
If you divert the time you waste in surfing the internet on mobile phone or in watching daily soaps on TV on weekends, you may find yourself ample time to roam around in the city and look for prospective property you find suitable for investing. You may also visit our online property portal HousingMan – www.housingman.com where we have listings of all kinds of properties fitting all kinds of budgets and requirements. A change in mindset is all you need to make yourself 'available' for the property investment. 
Property buying does require time, money and patience, but the time and money well-spent is not said to be wasted. Utilizing the time in building a fortune for yourself is certainly not time wastage; the results that you reap over the years are sure to give you a sense of achievement and fulfillment and you would not regret any second that you spent in real estate investment. Similarly, with so many alternative options available to raise funds with comparatively easier interest options, raising money isn't a humungous unmanageable task.
Myth no 2: Real Estate is the prerogative of land mafia and other bullies only
Though this sounds way too negative, but there is light at the end of the tunnel. The Government has been constantly taking concrete steps for rectifying the situation within the industry and the economy, giving the common man his due. With the Demonetization, GST & RERA, it has bought in transparency and more safety to the real estate investment scenario. There is a firm and continuous 'cleaning' process going on in all sectors of Indian Economy and real estate has also caught the attention of the visionaries. So, real estate is and surely going to be a more secured investment avenue in coming times.
 Myth no 3: Real Estate is all about losing money
If you have done your homework well and paid attention to the minutest of details, your money in real estate is safe and sound. The problem occurs when the buyers take the step in haste and land themselves in a soup. But, with HousingMan there are only verified and reputed credible builders on board. We have an expert team of professionals and sales advisors who suggest the best of property as per your needs and requirements. With an in-house team of legal experts, architecture experts etc. who can help you take the best decision and create value for you out of the investment made in property. Be well-read and get the thoughts approved from the trusted and certified experts like HousingMan – and your money is surely going to multiply only in a property investment.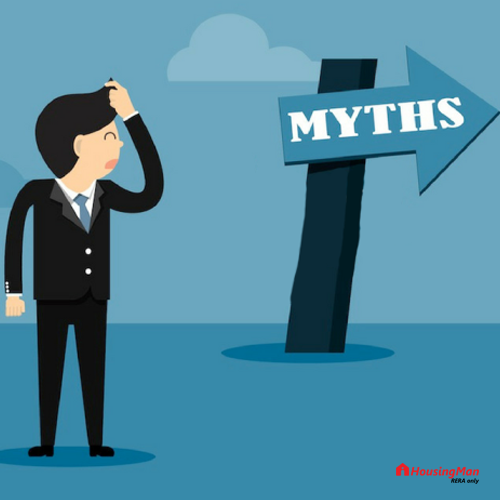 Myth no 4: I have to have strong credit score for property investment
Good credit makes the process simpler, no doubt, but you are not denied to make real estate investment if your credit front is weak. You can find ways like property flipping, hire-purchase and lease property etc. to find the solution for making property investment without a fabulous credit score. Thus, make advantage of your thinking ability to find a cover-up for bad credit and you are good to go.
Myth no 5: Real Estate Investment is all about luck
Getting through the real estate is a matter of luck, really?! Why are you snatching away the credit from the people with futuristic vision and strong business acumen by calling real estate investment a game of pure luck? The buyers of real estate property do in-depth research of the market and the impending conditions and take goal-oriented decisions to up their game. You can also do the same by doing a thorough check on the market conditions and finding the best time and property to invest. Keeping an eye on price trends can help you find the bullish and bearish phases and make money out of the situation of changing phases. With HousingMan be sure of what you invest.
Myth no 6: Real Estate Investing is pure gamble
And so are investing in Equity and other market instruments, aren't they? Any avenue that is not giving returns immediately is prone to the uncertainty of the future. It is your study of the market and that of trends that make you an investment genius and not mere speculating. So, when you are into real estate investing, you are not taking decision merely on intuition, you have a thorough study and the advice of experts working behind the scene.
Myth no 7: Only new property will give fabulous returns
Just ride round the city, zero in on some neglected property, buy it at lower rates and convert it into a new style home. And now calculate how much margins you made. Buying a property with no features and making it a desirable home is way cheaper than going for property that is new and comes to you at sky-high price. If you are a serious investor with a bevy of builders and architects having knowledge about the present trends, each property is not less than goldmine for you. You will find, great attractive properties in some good neighbourhoods which may fetch you bold returns in the future!
To conclude, you can start your road to fortune by talking to experts at HousingMan, the premier property specialists online to give myths a big fight. Myths should not discourage you from making the best use of the surplus money you have. So, shun all the doubts and get the much needed exposure to the reality of property investment. Investing on right time in the right avenue is the key to building a fortune that you deserve, it is wise not to giveaway chances to preconceived notions and baseless myths.