Changing lifestyles, generations, fast-changing mindsets, increased lifespans and growing wealth and technology have been a boon or a bane is objective. But senior citizens who are in their sunset years are looking for a post-retirement living home, also known as a second home to be self-dependent and spend their last couple of years in absolute serenity and doing activities they enjoy and love or what they couldn't pursue in their earlier days.
A post-retirement living means to enjoy an active living and indulge in hobbies and passions. Leaving the fast-paced city life and enjoy the calmness of last few years.
The fast collapsing traditional Indian family support system has given increased rise to nuclear families and fast developing senior citizen housing projects as well as senior citizen amenities and features in most upcoming projects.
A newly emerging trend – Senior citizen housing projects 
A new upcoming and growing niche market, senior citizen housing projects have been rapidly growing, especially with a lot of builders now focusing on this new concept. The last 5-6 years have boosted this segment making a post-retirement living with special attention to senior citizen amenities an ongoing reality.
Several developers including local developers and charity groups are actively participating for the growth of this segment.
A few integral features for senior citizens, included in post-retirement living homes.
1. Grab rails
2. Anti-skid tiles
3. Passage ways for wheelchairs
4. Emergency response services
5. Secured campus
6. Maintenance and housekeeping services
7. Senior citizen clubs
8. Special recreation and hobby clubs
Planning and way ahead for post-retirement living homes.
1. Be an early bird – It is always better to start early. One of the major mistakes most of them do is deferring retirement planning. An early start allows you to try different things as well as take risks. Be it equity, gold, real-estate, shares or bonds. As you approach retirement, you can start liquidating this high-risk high-return equity investments and go for the safety of fixed income options such as debt funds, bank fixed deposits and PPF.This will help you to create a sufficient corpus fund for yourself and plan a better post-retirement life.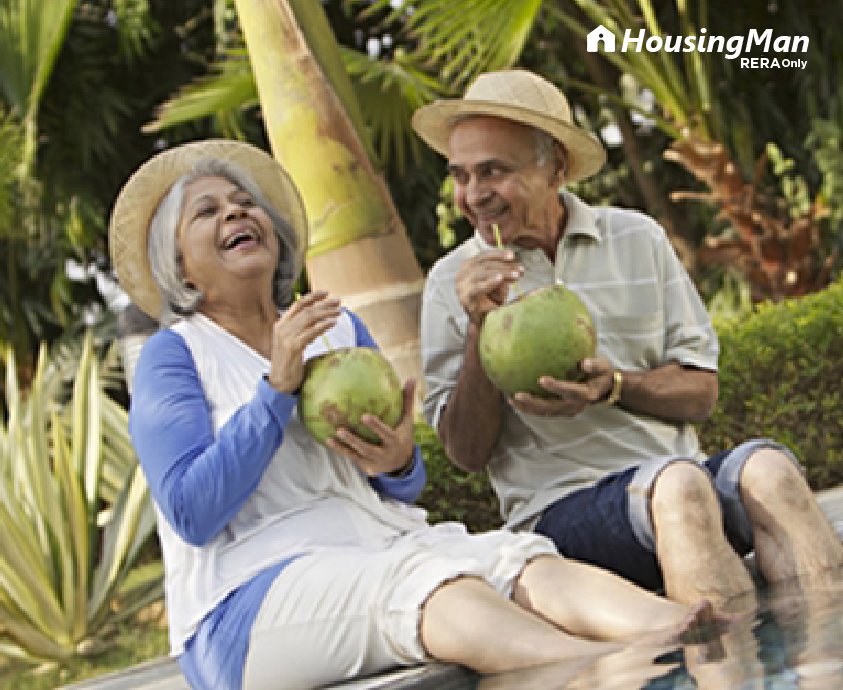 2. Focus on the ultimate goal – It is important to balance your present expenses and short-term goals from your future retirement expenses or other Long term goals. Be clear that the retirement savings will be touched upon, only when you stop earning and not for children's educational purposes or buying a car. Therefore, it is absolutely necessary to estimate the money needed for each financial goal and invest accordingly.
3. Invest in different government and non-government social schemes – To create a problem free life after retirement, make sure you have a sound financial plan so you are not in a panic mode on what to do after retirement. Most often, financial drainage and lack of sufficient financial planning are key factors which lead to a troublesome and risky post-retirement living.
Better security and medical facilities, a less polluted environment and the opportunity to live with people of own age group are the chief reasons for the growing popularity of retirement homes.
Although at a nascent stage, senior living projects are gaining popularity over the last couple of years, backed by builders and social groups. These projects are generally targeted towards the financially well-off and upwardly mobile Indians.
Most NRI's who are accustomed to such facilities in their country and want to return back to their Indian roots seek a similar way and lifestyle of living post retirement. A sense of security, balanced health care along with a sense of belongingness and community living in a peaceful atmosphere are their look out.
Retirement is an important milestone and planning your finances for the same should not be deferred as it is a long process not to be left for later stages of your life. The key to getting started for a successful retirement planning is to start early, evaluate post-retirement needs thoroughly and going for products and instruments that not only help you reach the targeted corpus but also protect it from the vagaries and instabilities of the market.
Buying a house, be it a first time home investment or a retirement home investment, you can always plan with HousingMan which helps you find an ideal property of your choice and as per your needs and life goals.
HousingMan property sales advisors understand your needs and requirements and after careful analysis suggest you the best as per your house goals so when you are buying a home you are absolutely well-informed and make a concrete decision.